The commercial RPAS market is beginning to shake and settle. Twitter user @Dronenerder stated that staff have been let go this week.
(Update 18:40 GMT) Earlier I reported that 40 people had been laid off, PrecisionHawk has since stated it was less but are unable to confirm the exact number)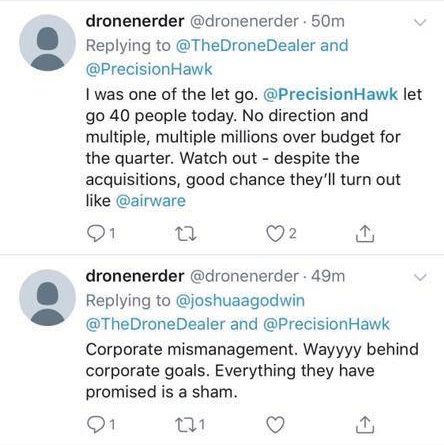 Lia Reich VP marketing and Communications at PrecisionHawk in an email to sUAS News explained.
"It is a result of multiple acquisitions where a company is simply making adjustments to bring new employees on board and align resources to new clients and projects.
On September 5th, we announced the acquisition of both HAZON Solutions and InspecTools – two companies in the drone energy space.  With this increased focus in the energy space, and PrecisionHawk's success in other industries such as Agriculture, Infrastructure, and others – we are re-organizing our company and making sure our resources are aligned in these key markets.
As with any acquisition and re-organization, there are some positions are duplicative across companies or no longer needed resulting in a small number of impacted staff who no longer have active positions.
PrecisionHawk continues to grow both organically as well as through acquisition – having now completed four acquisitions in the last year.  With the teams from two new companies on board we have a similar number of employees on staff, and we think we are better positioned to serve our markets than ever before.  We are excited about the opportunity ahead."