On 14 January Gary noticed that DJI had removed the Phantom 3 Advanced, Pro and 4K variants of the Phantom range from their online store. When visiting the info pages for these variants, a notification pops up showing the Mavic and displaying the following message:
"Please note that the Phantom 3 Advanced/Professional/4K is no longer being produced. For the Latest DJI technologies, please see the Mavic."
Is the Phantom 4 base model next on the chopping block?
With DJI's introduction of the Mavic Pro in September last year, and with Mavic sales rumoured to be well over a million already, it is taking care of most of the market that was previously serviced by the lower end and non-Pro version Phantoms. If you browse around the various forums, many current and potential DJI customer are calling for a Mavic Standard as well.
Before the P3 Pro was chopped, the base model Phantom 4 really did not make much sense, the Phantom 3 Pro can do most of what the P4 and P4P can do, at a much better price. I am struggling to see how it makes sense even after the big chop in the P3 line. The Phantom 4 Pro is just so much better.
It would make sense for the base P4 standard model to also disappear from DJI's production line in the near future. Having a clearer separation between the Phantom and Mavic product lines could help customers decide more easily which system is right for them. There would be less overlap in features and capabilities between DJI's various product lines, i.e. DJI would not have to compete against themselves as much. It would also make things a bit simpler for DJI on the manufacturing side of things.
It will also be interesting to see how long P3 Standard production lasts. For now, it seems to still be sitting nicely alongside the Mavic Pro as an entry level system. Although I suspect that it will disappear if DJI launch a Mavic Standard or similar later in the year.
Currently, DJI's store page for the Phantom range still shows the following:
So what would be left on DJI's prosumer line of drones after the Phantom 4 also says goodbye?
Phantom 4 Pro
Phantom 3 Standard
Mavic Pro
Phantom 4
Phantom 3 4k
Phantom 3 Pro
Phantom 3 Advanced
If a Mavic Standard is introduced later this year and Phantom 3 Standard is dropped, the picture would look even easier to understand.
Phantom 4 Pro
Mavic Pro
Mavic Standard
Phantom 4
Phantom 3 4k
Phantom 3 Pro
Phantom 3 Advanced
Phantom 3 Standard
And overall in the non-enterprise range, the following looks simple to me per generation.
Inspire
Phantom Pro
Mavik Pro
Mavik Standard
Why did DJI chop most of the Phantom 3 range?
I wonder if the company is not perhaps taking a page from Steve Jobs' playbook on product line simplification, and not inundating customers with too much choice to the point where they do not make a decision at all, or cannot make a recommendation to a friend without a lengthy explanation of various stats and specs. When Jobs returned to Apple, the Apple product line was a nightmare.
From Entrepeneur.com: "Fresh off a partnership deal with Microsoft that injected Apple with $150 million, one of Jobs' first goals as CEO was to review the company's sprawling product line. What he found out was that Apple had been producing multiple versions of the same product to satisfy requests from retailers. For instance, the company was selling a dozen varied versions of the Macintosh computer.

Unable to explain why so many products were necessary, Jobs asked his team of top managers, "Which ones do I tell my friends to buy?" When he didn't get a simple answer, Jobs got to work reducing the number of Apple products by 70 percent."
This Business Insider article about a basic chart Jobs apparently drew on a whiteboard also explains what I mean nicely.
Perhaps they are simply looking at making their manufacturing processes a bit simpler in preparation of the Phantom 5 and possible Mavic Standard this year?
Perhaps the initial boom in the consumer drone space is coming to an end after all, and DJI is simply reading the runes and preparing for the longer term?
In the boom part of a business cycle, with money rolling in left right and centre, it is easier for a company to overextend itself with a growing product line-up that contains products which don't vary significantly from one another. Inefficiency doesn't matter as much because everything is selling. Once the boom cycle starts rolling over the top of the hill, and the influx of money slows down, one starts to more obviously notice where the inefficiencies are and where there is too much overlap in offerings.
Another possibility is that DJI are in some kind of trouble, but for now I doubt that. This does look like streamlining, and adjusting to a maturing consumer drone market, and not really a panic move. GoPro has not offered much competition, with their Karma drone specs and troubles making DJI smile, I'm sure. I would be surprised if GoPro bring out a second version of Karma, as GoPro's CEO Nick Woodman mentioned not long ago that they would.
I would be even more surprised if it offers any real competition to any of DJI's products, should GoPro bring out subsequent versions of Karma. Is talking about Karma 2 just to boost confidence in Karma 1, or to placate investors, or a bit of both? Either way, GoPro isn't offering DJI much competition right now and it will be very difficult to offer any going forward. They would have to make a really big leap as DJI have several drone generations of experience and learning under the belt and are entrenching themselves across the spectrum, from consumer systems to industrial and enterprise level offerings.
DJI focusing on commercial drone operations
With regulators around the world allowing more and more commercial UAS operations, DJI does also seem to be shifting more of its focus to customers who operate drones commercially.
DJI has been aggressively partnering with third party commercial drone and other service and product providers over the last year or so. Companies like Precisionhawk, Propeller Aero, Drone Deploy, FLIR, Measure, Flyability and Datumate, to name but a few. See the bottom of this article for more info on these partnerships.
Also, in November 2015, DJI bought a minority stake in camera manufacturer Hasselblad. Earlier this month, The Luminous Landscape spilled the beans that DJI have now acquired a majority stake in the Swedish camera company.
This increased focus on the commercial drone-use market is further evidenced by DJI launching their own commercial drone conference, Airworks, in December 2016. At this San Francisco conference, they introduced new enterprise-level systems such as Wind 1, Wind 2 and CS SR 1.
What interests me still, are DJI's new enterprise level systems unveiled at Airworks, and how these will fit into the DJI ecosystem of consumer, prosumer and professional drones. Since the show, we haven't noticed them aggressively marketing these systems yet. Perhaps they are holding off on this until they complete the streamlining process and have reduced their product offering overlaps?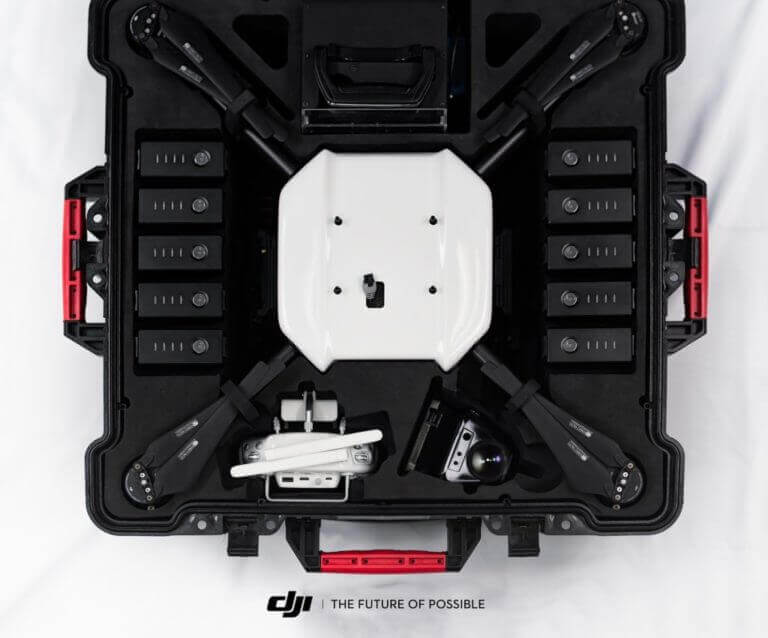 With all that said, however, who really knows? Time will tell what drone overlord Frank Wang (DJI's Founder and CEO) is up to.
—
DJI on a partnering spree recently:
December 2015
DJI Zenmuse XT integrated FLIR Camera
February 2016
FLIR Chooses Planet Inhouse, Inc. to be FLIR XT Launch Partner
April 2016
DJI and EENA Partner to Promote First Response Missions
May 2016
Precisionhawk and DJI deliver easy to use drone and data packages for farmers
June 2016
DJI and Flyability partner to bring collision-tolerance to UAVs
July 2016
DroneDeploy & DJI Partner to Deliver Inspection & Thermal Mapping Capabilities
Measure And DJI Announce Partnership
August 2016
DJI and Propeller Aero bring turnkey solutions to construction and mining industries
September 2016
Epson Partners with DJI to Create AR Smart Glasses Solutions for Piloting UAS 
October 2016
DJI and Datumate Partner to Deliver Site Survey Solution 
November 2016
JW Marriott Hotels & Resorts And DJI Partner To Launch Drone Experience Program