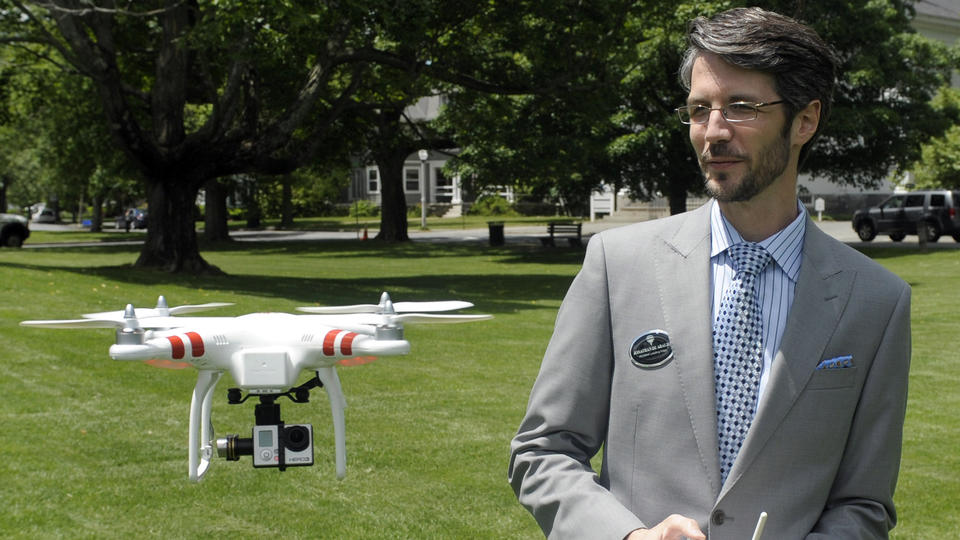 Some Bay State businesses are already putting drones in the air to boost their bottom line as the Federal Aviation Administration hints it may be open to some commercial uses of the hovering craft.
"It's a novelty now, but I think it will become more of a mainstay," said Missy Cummings, a drone expert at MIT. "These drones can really improve business processes."
Lexington Realtor Jonathan de Araujo has been using a drone to take aerial shots of properties he is listing since last summer, and the birds-eye view has quickly found a place in de Araujo's real estate arsenal.
"The end result is just unparalleled," he said. "Everything we can do to give a more positive impression means more people at the open house. The idea is to just give a better, more positive, a more thorough impression of what you're looking at."
De Araujo uses his drone, a model outfitted with a camera and available to any consumer, to give his homes more context, including offering a complete view of a backyard, or showing how close the park down the street is.
"When you're taking stills from ground level, you're seeing one angle, one shot," he said. "It just made sense to add that extra dimension."
Last week, the FAA said it is considering letting seven movie and television filming companies use drones. Now, the only commercial drone flights permitted by the FAA are those by one company off the Alaskan coast. The FAA has been working for the past decade on potential safety regulations that would allow widespread commercial drone use, but those regulations have been repeatedly delayed. Most recently, the FAA has said it will release proposed regulations for operating small drones by November. That would be followed by a potentially yearslong process to finalize the regulations.
Dan Kara, a robotics and drone industry analyst with Myria Research, said the FAA is under pressure to clarify the guidelines because many, from individual real estate agents to Amazon.com, are using or expressing interest in making drones part of their toolkit.
"It's happening organically," Kara said.
Marcella Hoekstra, who runs wedding video company Heirloom Pictures, is planning on buying a drone soon.
"I've seen what these drones can do, and I've seen some really beautiful, sweeping shots of landscapes and architecture," Hoekstra said. "It's a wonderful way to explore … and give the bride and groom a bird's-eye view."
Kara said some are looking to drones for the novelty — a club in Las Vegas is delivering high end champagne to its high-rollers by drone.
But others are advocating for the permitted use of drones for search and rescue missions, to get a good view of wildfires and to help farmers track their crops.
"There's no question drones can revolutionize (agriculture)," Cummings said.
http://bostonherald.com/business/business_markets/2014/06/drones_fly_with_mass_users