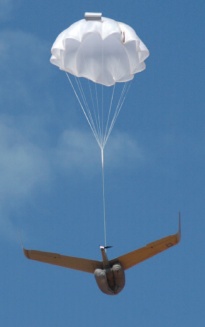 Azerbaijan and Israeli firms have formed a joint venture to build Israeli designed UAVs in Azerbaijan. Two models of UAVs will be built. One is a lightweight model, the Orbiter 2. This one  weighs 9.5 kg (21 pounds) and its battery powered motor can keep it in the air for about three hours per sortie. Maximum altitude is 3,200 meters and top speed is 120 kilometers an hour.
Production of drones has started at Azad Systems, a joint venture between Azerbaijan's Defence Industry Ministry and Israeli manufacturer Aeronautics.
Azad Systems, which was formally opened by Azerbaijani President Ilham Aliyev last week, is producing the Orbiter 2M and Aerostar unmanned aircraft, Fineco/ABC reported.
But since the UAV can't operate more than 80 kilometers from the controller, top speed is rarely needed. The Oribiter is launched by a catapult. It lands via parachute, and is waterproof and floats.
Sources in Israel indicate that the close cooperation between Israeli company Aeronautics and Rafael Advanced Defence Systems may result in the production or assembly of some Rafael systems in the new Azad Systems facility, according to Flightglobal website.
Aeronautics is the third-largest Israeli UAV manufacturer, after Israel Aerospace Industries and Elbit Systems.
Aeronautics has formed a similar joint venture in Spain and the facility there will start operations by mid-2011.
In recent years, Israel has become a major arms supplier to Azerbaijan. The deals so far include artillery systems, communications equipment and UAVs of the same types that will be now assembled locally.
Azerbaijan's defence industry minister, Yaver Jamalov, said in May 2010 that negotiations were under way with an Israeli company on the joint production of pilotless aircraft, but did not name the company involved.