Airspeeder and Alauda boosted by injection of leading technical and commercial talent
Additions to team drawn from F1® Management, Boeing, Jaguar Land Rover, Renault F1 McLaren, TWR and Williams Racing 
Judith Griggs, former long standing executive in F1® to join as lead on global rights acquisition and management 
World's first remotely piloted electric flying car races to take place in 2021 
"Our vision is to accelerate a mobility revolution through intense and safe sporting competition. We know that true innovation requires the world's best talent to deliver. Attracting exceptional minds drawn from the very highest levels of motoracing, automotive engineering, aerospace and the rapidly emerging eVTOL space will add to an extraordinarily capable team of senior engineers and technical experts that have just delivered the world's first fully-functional remotely piloted electric flying racing car. This injection of technical and commercial capability will play a pivotal role as we build towards historic first un-crewed races in 2021 and the world's first crewed electric flying car GPs in the years to follow." 
Matthew Pearson, Founder, Airspeeder and Alauda 
Airspeeder, the world's first racing series for flying electric cars, has significantly strengthened its global technical, engineering and sports rights leadership teams through key hires across all disciplines of the company's growing operation. 
The performance eVTOL engineering company Alauda, sister-company to Airspeeder, is the manufacturer of the vehicles that will race in the upcoming series. Both company's operations now span a technical HQ in Adelaide, South Australia, their commercial and development base in the United Kingdom and a third commercial operation in New York, USA. 
The key hires are drawn from leading names in motorsport, elite performance automotive engineering and one of the foundational legal and commercial minds that drove Formula 1's dominance of global broadcast sport in the 1990s and beyond. They strengthen a team that has just successfully completed the development programme for the world's first fully-functioning remotely piloted electric flying racing car, the Airspeeder Mk3. 
This significant injection of talent is drawn from companies including Boeing, Jaguar Land Rover, Renault F1, McLaren, Williams Racing and leading UK eVTOL manufacturer Vertical Airspace. This represents a commitment to blending the very best talent from both the aerospace industries and motorsports to create a new frontier sport and an accelerative presence in the rapidly emerging eVTOL sector. 
Judith Griggs will spearhead global rights acquisition and management and the shaping of Airspeeder as a sporting entity. Her legal and commercial background spans more than 27 years in Formula 1®. Brett Hill leads the engineering programme for both the Mk3 and Mk4 Airspeeder craft. Hill joins from Boeing, where he led technical projects and engineering teams on the 747-8, 787 and various military programmes.
Matt Rodgers comes from eVTOL outfit Vertical Airspace as Head of Composites. He is the first key technical hire in the UK and will pioneer a commitment to establishing a much larger development hub in a globally recognised centre of excellence for elite motorsport and aerospace development. Rodgers brings with him senior technical motorsport leadership experience from Williams Racing, Renault F1 and Formula E. 
Finally, David Wareing will bring a wealth of experience from hyper-performance and luxury automotive marques and through the development of racing technology at Tom Walkinshaw Racing (TWR) and hypercar vehicle systems at McLaren.
Judith Griggs, Global Rights Acquisition and Management Lead, said: 
"The opportunity to help Airspeeder and Alauda shape the world's first racing series for flying electric cars is irresistible. Airspeeder has the potential to be the most progressive and exciting new entity in sport. It is racing with global vision and authentic technical purpose and I am excited to work with Matt and the team to deliver on this potential through building exceptional relationships with commercial entities and racing bodies." 
Judith Griggs played a pivotal role in the commercial operation of Formula 1® for many years, including serving as CEO of the Australian Grand Prix Corporation in Melbourne. That work established the race as a pivotal round for the sport and earned Judith the honour of Australian businesswoman of the year for that role. This success built the foundations for her company, Sports Rights Management, a leader in sports and entertainment rights, media and technology.
Airspeeder stands at the confluence of next generation technology and sporting entertainment. A fundamental pillar of its strategy is to apply the same progressive approach to rights acquisition and management and fan interactivity through broadcast and streaming as with the development of the technology that underpins the sport. Judith will apply her 27 years experience shaping the commerciality and global viewership of F1 to realise the global potential of electric flying car racing. 
In addition to this, Judith will work with Founder Matt Pearson and London Based CCO Jack Withinshaw in building commercial relationships and negotiating with host nations, cities and brands in addition to those already established with DHL, money management leader, EQUALS and cyber-security pioneer Acronis and their delivery partner Teknov8.  
Brett Hill, Project Manager, said: 
"It's impossible not to be enticed by the technical challenge that comes with taking frontier technology and exploring the limits of performance. Racing accelerates progress and I'm delighted to join Airspeeder in working with an exceptionally talented multi-disciplinary team to drive the development of a truly revolutionary mobility technology."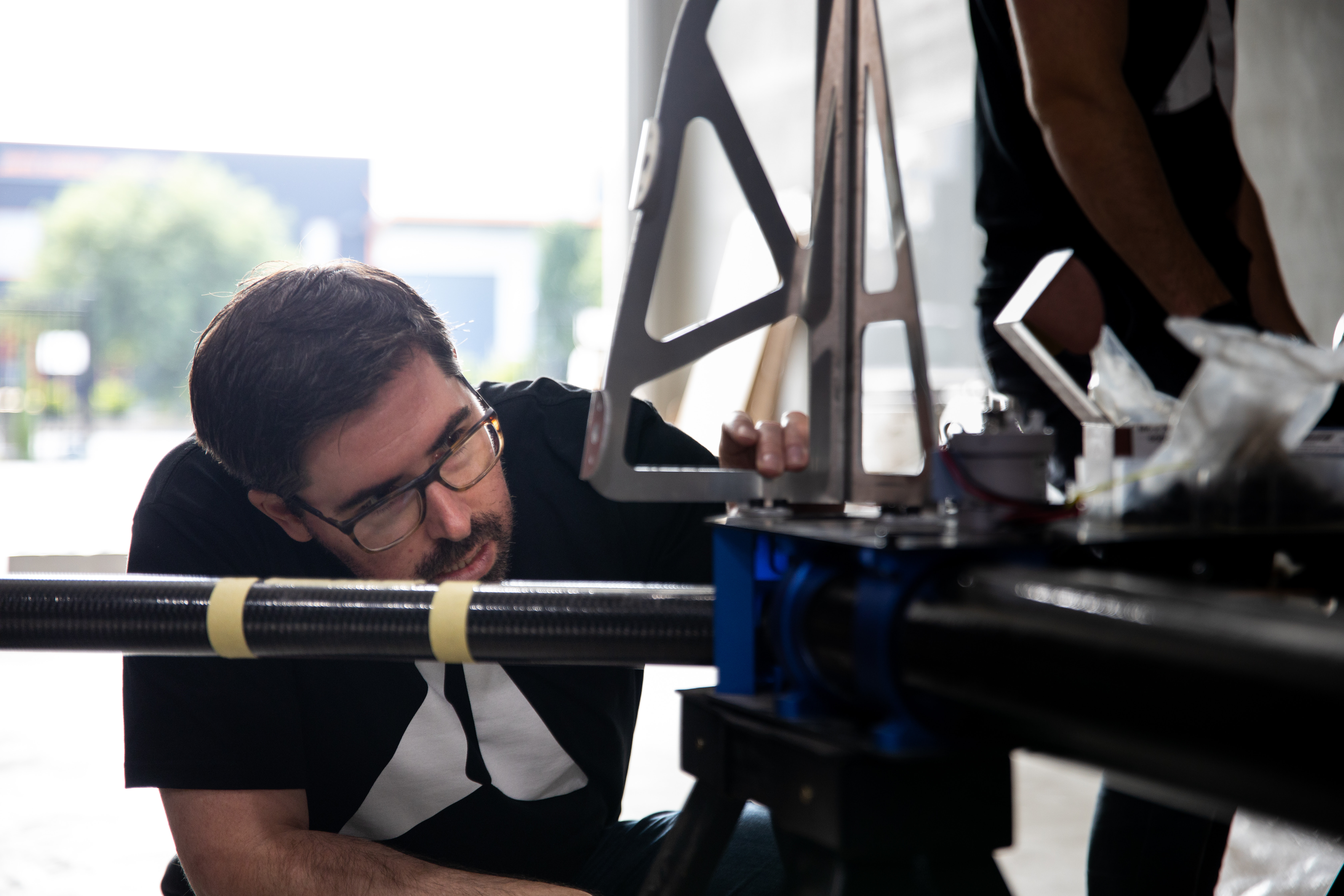 Since joining the company, Brett has applied the fastidious approach required for leading-edge aerospace engineering to the technical development of the Mk3 and Mk4 electric flying car programmes. Brett's aerospace experience, gained at Boeing includes key transferable disciplines including military testing programmes, aerodynamic analysis and structural analysis of advanced composite structures. Across his career at Boeing, Brett worked in not only design and analysis, but advanced production, and he brings a particular focus on 'design for manufacture' to the Airspeeder programmes. Brett's impact in leading a highly-skilled team of specialists across aerodynamic and structural analysis, flight controls and telemetry and production is already being felt as preparations are made for the next phase of development and the first remotely piloted races, set to take place in 2021.
Matt Rodgers, Head of Composites said: 
"Britain is the global home of motorsport and I'm very proud to be the first in extending this legacy to an entirely new form of sport and mobility. My career in both Formula 1 and the development of eVTOL passenger craft profoundly shaped my view that racing is the answer to the need for rapid technical development." 
At Airspeeder Matt will lead all aspects of composite design for the craft's monocoque structural chassis. This will include building a global network of cutting-edge manufacturing partners and building a team of highly skilled technicians as part of the establishment of a UK manufacturing footprint. At its heart Airspeeder is a clean-air sport with a purpose to accelerate a mobility revolution that responds to the global need for a more sustainable future. Matt will therefore take a lead in exploring natural fibre alternatives to further reduce resource consumption. 
David Wareing, Systems Engineer said: 
"Airspeeder is a global endeavour with roots in my native UK and adopted homeland of South Australia. This is a chance to join some of the most talented minds in their respective fields to genuinely accelerate development of the next great mobility revolution."
David Wareing will bring a wealth of experience from development of hypercar-performance and luxury automotive vehicles combined with a racing background at Tom Walkinshaw Racing. At Airspeeder David has developed a systems-based approach to powertrain development supporting a multi-layer redundant architecture that maximises performance and availability though the efficient deployment of power supplies, controls and propulsion systems. His extensive experience from racing and performance car engineering brings significant knowhow in using modelling and simulation work to achieve technical objectives of delivery high-performance with safety.