Kicking off two weeks of events in Rwanda today at the African Drone Forum, His Excellency Paul Kagame of President of the Republic of Rwanda stated that.
'The policies and regulation we put in place should promote innovation not slow it down. The priorities of safety and security and innovation can all be effectively catered for in the regulatory framework.'
Africa, and Rwanda in particular is open for drone business. Twenty five regulators from across Africa are attending, the East African block is particularly strong and positive in it's attitude towards RPAS.
Over 800 people are expected to attend the event travelling from all points of the globe.
Lake Kivu Challenge
Teams are flying and demonstrating their delivery drone platforms at The Lake Kivu Flying challenge about 100 km West of Kigali. Not just putting machines on a stand and showing renderings, really flying to an island 20 km away and delivering stuff. Scrutineering and demonstration flights took place yesterday.
The flying challenges taking place next week are :-
The Emergency Delivery Challenge
Safely deliver an emergency package weighing a minimum of 1kg from the droneport on the mainland to Bugarura Island in Lake Kivu and then return and land safely at the starting point. The distance between the droneports is around 20km. No battery swap is allowed at the drop-off location.
Sample Pick-Up
Take off from the mainland droneport and safely pick up as many 250g modules as possible from the droneport on Bugarura Island on Lake Kivu and return them to the mainland droneport.
Find and Assess
Successfully identify the coordinates of both land-based and water-based targets in Lake Kivu, then return and land safely at the starting point.
Amazon and Wing are noticeable by their absence. They talk the talk….
Altitude Angel are the event UTM.
African Drone Business Challenge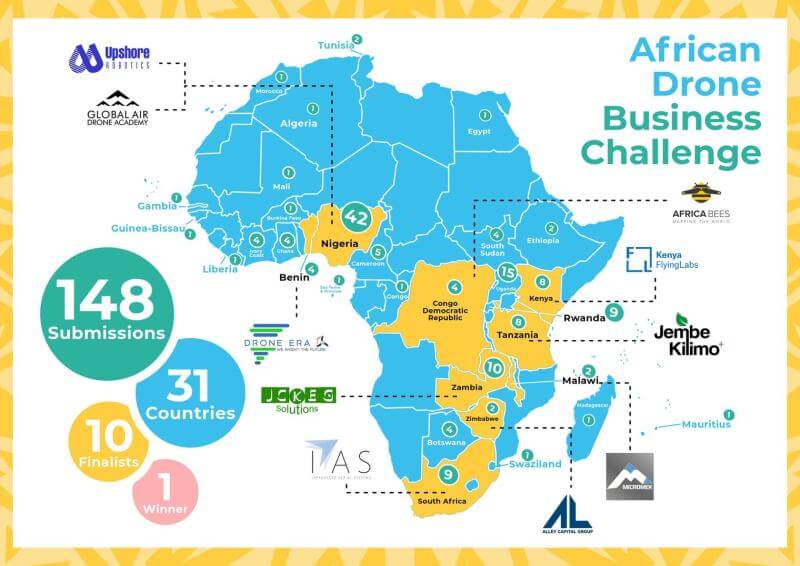 The African Drone Business Challenge whittled down 148 submissions to 10 and they are all showing their wares in Kigali this week. There is 40k UK Pounds on the table as a prize.
The ten are:-
Global Air Drone Academy
Alley Capital Group
JCKEG Solutions
Upshore Robotics
MicroMek
Integrated Aerial Systems
Jembe Kilimo
Africa Bees
Kenya Flying Labs
Drone-Era
African Drone Forum Youth Scholars
Last and certainly not least, the World Bank and African Drone Forum selected and invited future leaders of the African drone industry to the event.
This really is a forward looking initiative that will reap rewards in future years.
Well done one and all.