Lots and lots being said about the traditionally leaked new DJI Spark/Mavic mashup, to be launched tomorrow in New York. Leaks are a DJI thing, happens every time. Is it a new Mavic, is a bigger Spark. All will be answered soon.
I want to know about this FCC filing for this RD2412R1712 High-Precision Rotation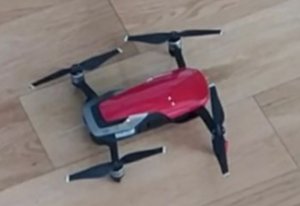 Microwave Radar it operates on 24,125 GHz that's Doppler radar. Is it for detecting people and stuff on the ground? Weather? Air Traffic? A new part of AeroScope.
Which platform is it made for, just the professional ones? Perhaps a Phantom 5. The report does not give away much, we know its 10.9 cm deep by 15.2 cm wide and 12 volts.
WILLFUL FALSE STATEMENTS MADE ON THIS FORM ARE PUNISHABLE BY FINE AND IMPRISONMENT (U.S. CODE, TITLE 18, SECTION 1001), AND/OR REVOCATION OF ANY STATION LICENSE OR CONSTRUCTION PERMIT (U.S. CODE, TITLE 47, SECTION 312(a)(1)), AND/OR FORFEITURE (U.S. CODE, TITLE 47, SECTION 503).
Applications are submitted for FCC ID and Grant requests. Click an above application to view details
Grants
TCB
GRANT OF EQUIPMENT
AUTHORIZATION
TCB
Certification
Issued Under the Authority of the
Federal Communications Commission
By:
Bay Area Compliance Laboratory Corp.
1274 Anvilwood Avenue
Sunnyvale, CA 94089
Date of Grant: 01/19/2018

Application Dated: 01/19/2018
SZ DJI TECHNOLOGY CO., LTD
14th floor, West Wing, Skyworth Semiconductor
Design Building NO.18 Gaoxin South 4th Ave,
Nanshan, Shenzhen, Guangdong, 518057
China
Attention: Xi Xiang , PM
EQUIPMENT AUTHORIZATION is hereby issued to the named GRANTEE, and is VALID ONLY for the equipment identified hereon for use under the Commission's Rules and Regulations listed below.
| | |
| --- | --- |
| FCC IDENTIFIER: | SS3-RD2412R1712 |
| Name of Grantee:  | SZ DJI TECHNOLOGY CO., LTD |
| Equipment Class: | Part 15 Low Power Communication Device Transmitter |
| Notes: | High-Precision Rotation Microwave Radar |
Grant Notes
FCC Rule Parts

Frequency




Range (MHZ)

Output




Watts

Frequency




Tolerance

Emission




Designator

15C
24125.0  –  24125.0
https://fccid.io/SS3-RD2412R1712