Pix4D's rayCloud is an iconic interface which connects 2D original images to the 3D reconstructed point cloud. In rayCloud, you can easily add and edit your GCPs/MTPs to improve your project accuracy, without having to go image by image for searching where the points locate. You can simply click on an approximate location in the rayCloud and modify it in the corresponding images displayed in the sidebar.
Once you mark on two images, you could either select "automatic marking" and let the software mark all the rest for you, or you continue marking on some more images to reduce the errors in various directions by giving human interventions.
Reduce human click errors with automatic outlier detection
Today, apart from making it easier for you to find where the points are, we also inform you when you mismark your points on a wrong location of the images.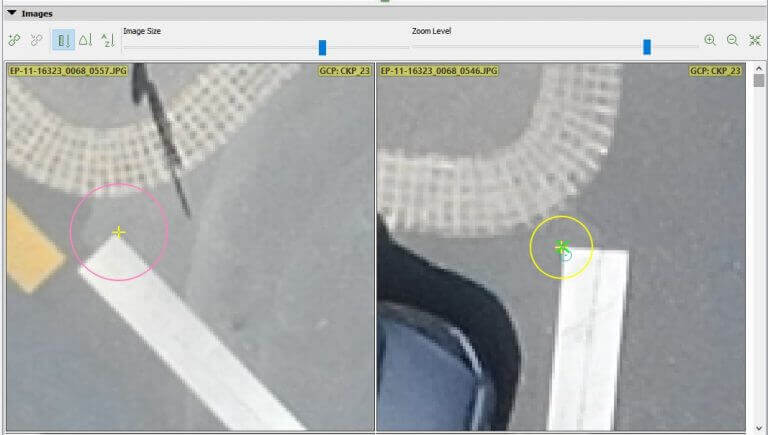 In the version 3.3, when you accidentally mark your GCPs/MTPs on the wrong position, the software warns you with a pink circle, telling you that this specific point you just marked falls out the reasonable accuracy range referring to the marks in other images. Such automatic outlier detection will minimize the chances of making human click errors which may eventually mess up the accuracy of your final outputs.
Save time with faster initial processing speed
Pix4D has always aimed for accuracy and efficiency. In version 3.3, the initial processing (the first step in processing) speed has increased for all processing settings.
Upgrade now and you will experience on average 23% faster the initial processing speed compared to the previous version.
Pix4D desktop software now available in Korean
In addition to the languages we currently support (EN, DE, ES, FR, IT, zh-CN, zh-TW, JP, RU), Pix4D desktop software is now available also in Korean (KO). We wish more and more people will benefit from all the functionalities we offer, without being blocked by the barrier of languages!