Well done to the Ardupilot team, fourteen out of the top twenty finalists in the AUVSI Student UAS competition, were running Ardupilot. Positions one to six taken by the OpenSource autopilot.
Only one commercial autopilot, the Piccolo made it into the top 20 at number 8. How things change!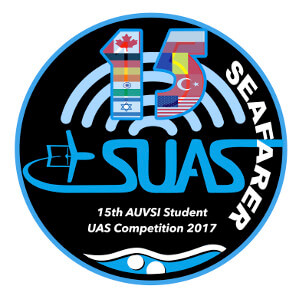 The 2017 SUAS Competition was held June 14th to 17th, 2017. A total of 59 international teams competed, 55 submitted Technical Design papers, 47 presented Flight Readiness Reviews (FRR), 42 teams attended, and 38 were able to get airborne. A total of $62,250 was awarded to teams. This was the first year to have no RF frequency management by the judges, FRR videos submitted to YouTube, and electronic-only scoring of detected objects.
University & Team
Awards
Universite de Sherbrooke
VAMUdeS
First Place
Best Mission Demonstration
Cornell University
CUAir
Second Place
Best Technical Design
Technion Israel Institute of Technology
TAS
Third Place
Best Flight Readiness Review
Istanbul Technical University
ITUNOM Unmanned Air Vehicles
Best Rotary Wing Award
Flint Hill School
Animus Ferus
Best High School Award
North Carolina State University
Aerial Robotics Club of NC State
Just Joe Sportsmanship Award
The University of Texas at Austin
Unmanned Aerial Vehicle Team
Cyber Security Award
University of Maryland College Park
Maryland UAS
Dr. Arthur Reyes Safety Award
Norfolk State University
Team Tara
Dawn Jaeger Tenacity Award