It seems we were just ahead of the rest of the news here in South Africa when we spoke in last night's Hangout about an incident that occurred in South Africa at the end of July.
An FPV racing fan was flying from open ground in the small town of Duynefontein, less than 2km from Koeberg Nuclear Power Station, then lost control of his quadcopter and off it flew.
The flyer was not sure where the quadcopter went and posted a 'missing drone' post on Facebook.
Jump to 10:55 to see where we talk about this and drone defence
He quickly received a message from a sergeant at his local police station who gave the flyer details of the person he could collect the aircraft from.
It is alleged that the next evening the Police visited the flyer's house and impounded his gear.
As I wake up this morning, the South African press is reporting a slightly different story. They say that all the flyer's gear was handed back to him and because Koeberg's safety officer didn't take the matter any further, that he has been suspended.
Eskom, South Africa's electricity provider said on Tuesday: "In an unrelated incident, a drone crashed on the Koeberg site in contravention of the nuclear safety regulations and was returned to its owner without the investigation having been completed," Eskom said on Tuesday.

"Eskom has subsequently suspended the Koeberg Safety officer as a precautionary measure to fully investigate the incident," it said. "The matter has also been reported to the SAPS as Koeberg is a National Key Point."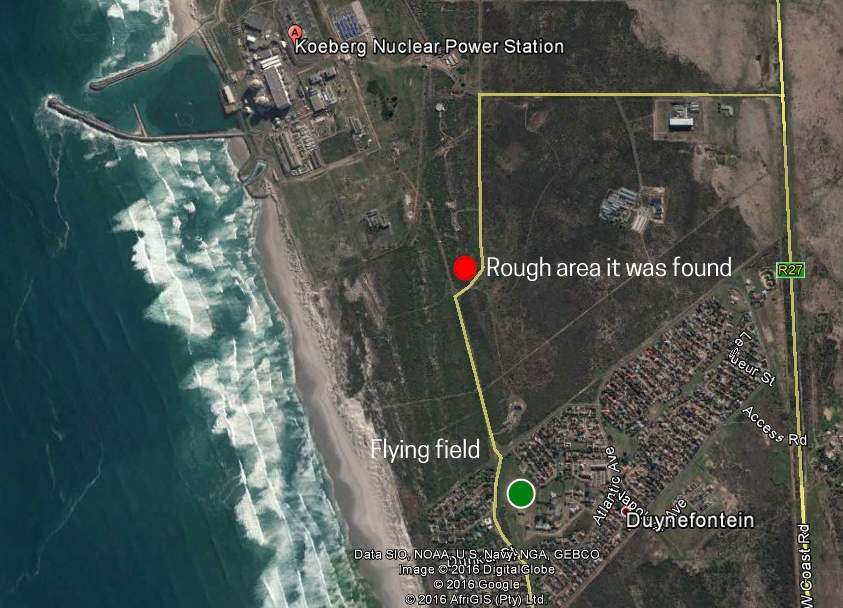 As can be seen on the map below, Koeberg has its own restricted airspace. FAR36 extends from ground to 2000ft AGL. As mentioned in the above video, a lot more will need to be done to educate people on the legalities of flying remotely piloted aircraft, both for recreational purposes as well as for commercial purposes.