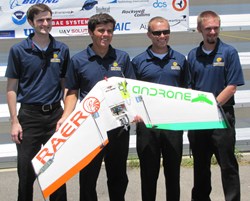 Across the globe, small unmanned aircraft systems (sUAS; under 55 lbs.) are rapidly
transforming businesses and industries as we know them. From individual enthusiasts to major corporations, sUAS users are harnessing the power of these systems, while striving to keep up with the industry's ever-evolving technology and legal regulations. That is why Embry-Riddle Worldwide created the online Professional Program in small unmanned aircraft systems.
Consisting of three online courses – History and Application of sUAS, sUAS Design and Configuration and sUAS Operations and Regulations– this non-degree program features the history and design of unmanned aircraft systems, delving into how industries across the board are using them now. You will explore today's most innovative and exciting sUAS applications, from preventing wildlife poaching to filming blockbusters. You will learn about operating sUAS safely and legally, for both professional and recreational purposes. Most important, you will connect with resources to help you stay current on this quickly changing industry.
"The release of this new, online sUAS education program at Embry-Riddle Worldwide will be beneficial to those entrepreneurs, operators and employees of firms and agencies looking to better understand this revolutionary technology," said Dr. Brent Terwilliger, Assistant Professor of Aeronautics and Program Chair for the Master of Science in Unmanned Systems degree program at Embry-Riddle's Worldwide Campus. "The topics, activities and resources featured in this program will assist such professionals to better understand the background, uses and considerations associated with safe, efficient and responsible application."
Where: Each course will be four weeks and will be offered online via Canvas.
Who Should Attend: Individuals from industries with interest in using or learning more about sUAS. These industries include, but are not limited to: agriculture, public safety, mapping and surveying, filming, communications, logistics, conservation, construction, engineering, real estate, insurance, retail, safety and emergency management.
Aug. 1-29 – History and Application of sUAS
This introductory course features the history and evolving uses of sUAS. Learn about the role of early aeronautical pioneers, eras of UAS development and example platforms, current and future uses, as well as major factors affecting future use, including an introduction to the operational environment and safety strategies. The curriculum modules include:
Early Aeronautical Pioneers and UAS Development
Modern UAS Development and Use
sUAS Applications
Future Use and Challenges
Sept. 5 – Oct. 3 – sUAS Design and Configuration
In this course, you will master the various design configurations of fixed-wing and vertical takeoff and landing (VTOL) sUAS platforms, including common classifications and primary subsystems. You will also explore the theory of operation and examples components used in the aerial, payload, ground-based command, control and communication (C3), human and support equipment elements. The curriculum modules include:
Platform Design Configurations – Fixed-wing
Platform Design Configurations – VTOL and Others
System Composition and Elements
Platform Acquisition and Consideration
Oct. 10 – Nov. 7 – sUAS Operations and Regulations
This course examines typical operational methods, applicable federal regulations and guidance, methods to locate updated information, planning and risk management strategies employed in aviation, platform and environment use considerations, factors affecting use across multiple industries and support considerations, including training and insurance. You will also have the opportunity to apply what you have learned to effectively plan and support an example sUAS operation, in compliance with Federal legal requirements. The curriculum modules include:
sUAS Operations
sUAS Regulatory Framework
sUAS Planning Principles
sUAS Support
Standard Course Fees: Courses will be priced at $399 each.  The certificate cost is $1,197.
Read the Course Brochure – Register Online – Register by Fax, Email
Note: This non-degree program does not substitute for a license, degree, certification or required professional credential. A certificate of completion is issued upon successful completion of all three courses.
About the Instructor:
Dr. Brent Terwilliger is an Assistant Professor of Aeronautics and the Program Chair for the M.S. in Unmanned Systems degree at the Embry-Riddle Aeronautical University (ERAU), Worldwide campus, College of Aeronautics. He holds a Ph.D. in Business Administration from Northcentral University, a Master's of Aeronautical Science and B.S. in Aerospace Studies from ERAU, and experience working more than a decade in defense contracting.
To learn more about online Professional Programs from Embry-Riddle Worldwide, please contact Gary Burke, Director of the Office of Professional Education, Embry-Riddle Aeronautical University, 600 S. Clyde Morris Blvd., Daytona Beach, FL 32114-3900.Email: [email protected]