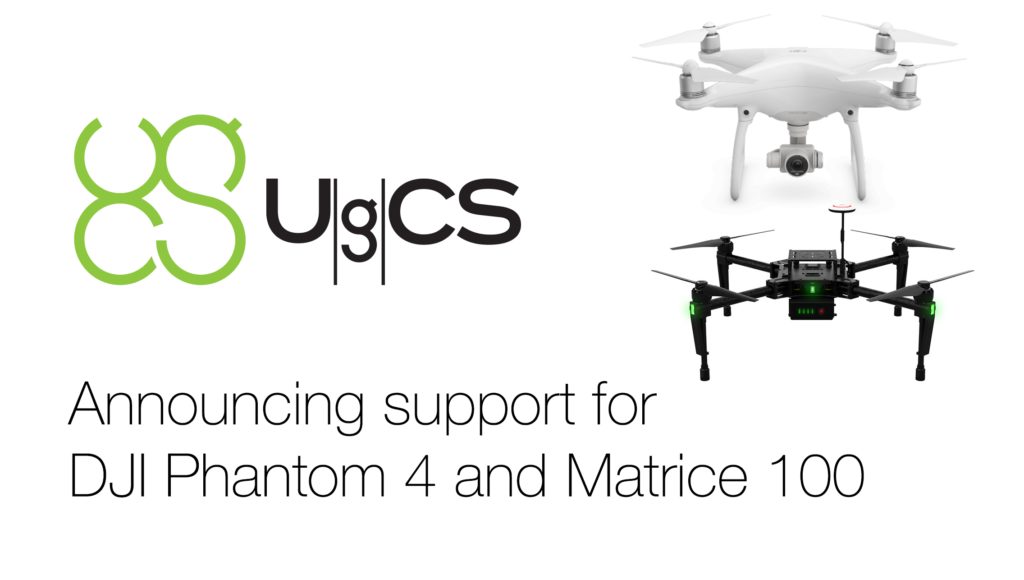 In 2015 DJI announced the DJI Matrice 100 – their version of a drone for developers and hardware enthusiasts. In early 2016 they released the new Phantom – DJI Phantom 4. Both of these drones feature intelligent maneuvering systems capable of seeing obstacles and are also capable of being equipped with state-of-the-art cameras.
We are pleased to announce that UgCS ground station software for drones will be supporting both – DJI Phantom 4 and Matrice 100. This support will be available in the upcoming version of UgCS – 2.9 which will be released in late June. UgCS is an easy-to-use ground station software which gives you the power to control your drones and send them on automated missions. It runs on Windows and Mac OS X. Phantom 4 and Matrice 100 will be able to connect to UgCS running on a laptop through the Android app UgCS for DJI.
Phantom 4 and Matrice 100 will be added to the existing list of drones supported in UgCS ground station software. Currently from DJI UgCS supports the following drones:
Phantom 2, Phantom 2 Vision+, Phantom 3, Inspire 1, Ace One, Naza-M V2, A2 and Wookong-M
UgCS also supports drones from other manufacturers such as 3D Robotics, Microdrones, MicroPilot, MikroKopter and even Lockheed Martin.
Get UgCS here: www.ugcs.com