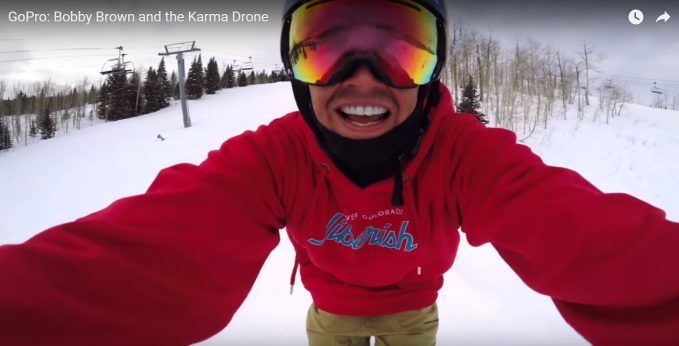 I'm going to have to admit being able to release a moving drone and it pulls away and gets the shot. That's impressive. Also the image stabilization is astounding if that's it out the box.
We have still not seen the platform itself and this video is 2D not 3 as many people have been suggesting will be standard on the Karma.
Every time I see the name though I can't but help thinking this is just a grudge project. Getting back at DJI for making their own cameras. Are they right to try and beat the worlds largest drone player?
I would be even more impressed if we knew the new drone was obstacle avoiding the cables automatically. Thats the current new big thing. (Its been around for ages but landing in the consumer space now)
The video reminds me of the Hexo+ campaign, that's a thing in the real world.
Bobby Brown and friends get a chance to test out Karma, the new GoPro drone, at Aspen Snowmass.
Proper clearance and permits were obtained before shooting at Aspen Snowmass and stunt was preformed on a closed course.
The Karma drone is only going to win market share if its cheap IMHO, my wife says I'm wrong though. If the stabilization really is that good and autopilot able to handle being held and then released at speed she might be right.
Oh I also like that you can't see the Karma reflected in Bobby's visor.
As for subject, well I had to turn to Wiki-
Bobby Brown (born June 5, 1991) is an American freeskier specializing in slopestyle and big air competitions.
Brown was the first to execute multiple variations of a triple flip or triple cork at a training session in Squaw Valley, California. He gained notoriety after winning both the SlopeStyle and Big Air events at Winter X Games XIV, registering a perfect score of 100 in the latter. Brown was the first person ever to have landed a Switch Double Misty 1440. He was one of the first skiers ever to have landed a Triple Cork 1440.
Bobby is known for his tricks in the air, He has successfully landed many triple corks. Brown had a web show called "Bobby's Life",[1]which features his life, friends, and skiing. In addition, Brown was the first skier to win two gold medals in the same Winter X Games
I guess this means I am not the target audience for the Karma.