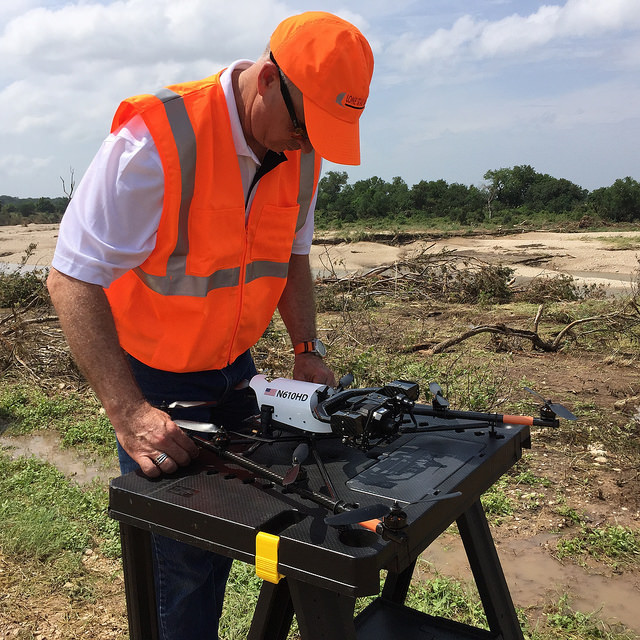 Texas – A test-site research team from the Lone Star Unmanned Aircraft Systems Center of Excellence & Innovation (LSUASC) at Texas A&M University-Corpus Christi has been dispatched to Wimberley, Texas, to conduct low-altitude research flights in the wake of devastating flooding.
The town of Wimberley, about 30 miles southwest of Austin, was struck May 25 by heavy flooding along the Blanco River. More than 400 homes were destroyed. Four deaths were reported in Hays County and at least eight persons were reported missing. Nineteen storm-related deaths were reported in Texas and Oklahoma and 14 in Mexico.
"Our hearts go out to those who have suffered great losses in Hays County," said Dr. Flavius Killebrew, President and CEO of Texas A&M University-Corpus Christi. "We are making every effort to support recovery efforts there with tools we believe will be of value to state and local emergency-management personnel."
The specific mission will perform real-time aerial searches for missing persons, livestock and vehicles, said Jerry Hendrix, Chief Engineer for the LSUASC test site and leader of the research team.
"We will survey land areas, including bridge and critical infrastructure and roadways," he said. "It will be a general aerial assessment of damage due to storm and flooding."
The LSUASC test-site team of three people will be based at a private ranch about five miles north of Wimberley to conduct low-altitude flights to assess damages related to the deadly storm that flooded the Blanco River. The team worked through Thursday and will continue efforts Friday. Call Seema at 361.739.6475 to coordinate interviews Friday morning.
The research "will assist in determining the process for use of UAS as a rapid-response tool in natural emergencies and the value of operating at 200 feet or less for aerial surveillance under such conditions," Hendrix said.
The research vehicles include:  An AscTec Falcon 8 provided by HUVRData of Austin, Texas, equipped with high-definition video and thermal-imaging cameras and multispectral sensors; a senseFly eBee provided by Urban Engineering of Corpus Christi equipped with a 16-megapixel camera and a 12-megapixel near-infrared camera; and a DJI Phantom quad-copter provided by A&M-Corpus Christi's iCORE Lab and the University's College of Science and Engineering equipped with a 16-megapixel video camera and a forward-looking infrared camera.
The LSUASC team has been supported by Dr. Robin Murphy, Director of the Center for Robot-Assisted Search and Rescue at Texas A&M University in College Station. A team from Dr. John Valasek's Center for Autonomous Vehicles and Sensor Systems at A&M is standing by to join the LSUASC effort.
The Federal Aviation Administration recently authorized its six UAS test sites to conduct small UAS research operations anywhere in the United States at altitudes less than 200 feet using any remotely-piloted aircraft weighing less than 55 pounds. The test sites are located in Texas, Alaska, Nevada, North Dakota, Virginia, and New York. The Texas test site is operated by the LSUASC headquartered at A&M-Corpus Christi.
"This new authorization gives us a great deal of latitude in assisting state agencies as they test UAS capabilities in fulfilling their statutory missions," said Dr. Luis Cifuentes, Vice President for Research, Commercialization and Outreach at A&M-Corpus Christi and Interim Executive Director of LSUASC. "Our test-site program has been designed by the FAA to support government agencies and private-sector companies as they safely integrate UAS into their operations."
About Texas A&M University-Corpus Christi: Offering more than 80 of the most popular degree programs in the state, Texas A&M-Corpus Christi has proudly provided a solid academic reputation, renowned faculty, and highly-rated degree programs since 1947.  The Island University has earned its spot as a premier doctoral-granting institution, supporting a UAS test site, two institutes, and 13 research centers and labs. Discover your island at http://www.tamucc.edu/.