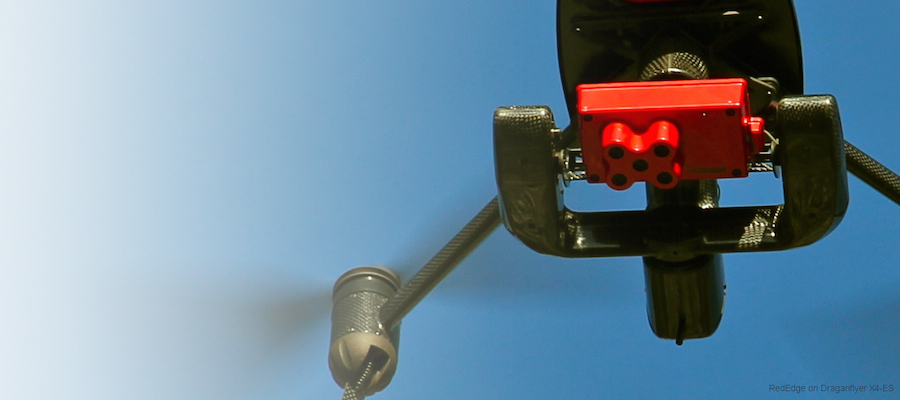 MicaSense, Inc. today unveiled the third generation of RedEdge™, an advanced multispectral camera optimized for use in drones. RedEdge advances the toolset available to modern growers and agronomists, empowering them to closely monitor and quickly respond to changes in their crops. Weighing only 150 grams (5.3 ounces), RedEdge provides scientific-grade imagery across five discrete bands for accurate and repeatable crop health maps.
RedEdge defines ease of integration with any aircraft, putting drones to work faster than ever before. A full-featured host
interface enables stand-alone operation as well as tight integration to any platform. Wi-Fi connectivity allows camera management in the field from any mobile device. After capturing imagery, MicaSense's cloud-based processing solutions turn raw data into actionable information. Standardized data outputs also enable post-processing using a number of mapping and GIS applications.
MicaSense is teaming with multiple drone technology companies to provide complete solutions. RedEdge is now integrated into Airware's commercial platform. "We're excited to be working with MicaSense at all levels of our Aerial Information Platform, providing drone manufacturers and operators a powerful option for agricultural remote sensing applications," said Jonathan Downey, Airware CEO.
Drone manufacturer Aerial Technology International (ATI) has integrated RedEdge into its AgBot™ system. ATI founder and CEO Stephen Burtt explains, "RedEdge is the perfect fit for drones and the ideal tool for providing imaging solutions for precision agriculture."
Zenon Dragan, founder and CEO of Draganfly Innovations, comments: "Over 15 years of manufacturing UAVs, we've seen many new payloads come along—but the RedEdge really stands out. It is lightweight, high-quality, easy to use, and delivers amazing imagery." Draganfly Innovations offers RedEdge tightly integrated with their latest UAV system, the Draganflyer Pro-Ag package.
Whatever the platform, RedEdge is ready to go to work.