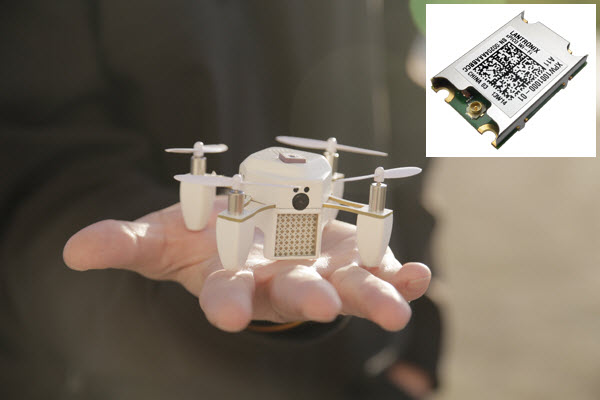 UK-based Torquing Group has tapped Lantronix, Inc. (NASDAQ: LTRX), a leading global provider of smart IoT (Internet of Things) solutions, to provide secure, onboard Wi-Fi technology for its new ZANO nano drone, an aerial photography and HD video capture nano platform that allows users to instantly begin capturing and sharing moments like never before. The companies will unveil ZANO at the Digital Experience media event on January 5, 2015, and will showcase the product during2015 International CES from January 6 – 9, 2015 at booth 25621 in LVCC, South Hall 2.
The hand-sized ZANO utilizes the Lantronix xPico® Wi-Fi module to provide secure and direct connectivity to both iOS and Android devices, which enables users to communicate with and control the ZANO. Utilizing a smartphone or tablet, users can either direct ZANO or set the intelligent nano drone to automatically follow the user and capture photos from a fixed distance. A multitude of sensors work seamlessly together to allow ZANO to avoid obstacles, hold its position, and know exactly where it is in conjunction with a smart handheld device, at all times.
"With its small form factor, advanced security and connectivity features, Lantronix's xPico Wi-Fi module was an ideal solution for ZANO," said Reece Crowther, vice president of sales and marketing for Torquing. "The Lantronix xPico Wi-Fi was easy to deploy and provided a significant piece of the equation, enabling us to get our intelligent, compact consumer photography drone off the ground and flying."
"The growth of personal drones is flying high with consumers as more and more people use these unmanned flying machines for a wide variety of purposes," said Kurt Busch, president and chief executive officer for Lantronix. "Drones such as ZANO are examples of applications of the convergence of IoT and mobility, for which Lantronix's solutions are ideal. We're thrilled to play an enabling role and congratulate Torquing Group on creating a sophisticated nano drone, designed to be easily piloted by consumers. ZANO is innovation at its best, and is a great illustration of how technology vision can become reality."
ZANO Debut at CES
Together with Torquing Group, Lantronix will unveil the ZANO at one of the nation's largest technology media events, Digital Experience, on January 5, 2015 — the evening prior to CES in Las Vegas. The companies will also showcase the ZANO drone at CES from January 6 – 9, 2015 at booth 25621 in LVCC, South Hall 2.
The Torquing Group plans to begin general production of the ZANO drone in Q2 2015. For more information, visit the company's Kickstarter campaign or the Torquing Group's website.
About Lantronix xPico Wi-Fi
The xPico Wi-Fi is the world's smallest, most compact embedded wireless device server. OEMs can use the xPico Wi-Fi platform to easily IoT-enable their devices, allowing for intelligent and secure connectivity. xPico Wi-Fi's simultaneous access point and client functionality — a key differentiator — allows for the creation of its own secure Wi-Fi network for direct access as well as maintaining a Wi-Fi client connection to the existing Wi-Fi network. Please visit the xPico Wi-Fi site for more information.
About Torquing Group
Founded in 1990, Torquing Group is a leading developer of autonomous, intelligent nano unmanned aerial systems for consumer, commercial and military applications. With a 25 year history specializing in technology, robotics, electronics, engineering and programming, Torquing Group has a proven track record in developing innovative solutions for the public and private sectors to an eclectic array of problems. Torquing is headquartered in the United Kingdom. For more information, visit www.torquinggroup.com.
About Lantronix
Lantronix, Inc. (NASDAQ: LTRX) is a global leader of secure communication technologies that simplify access and communication with and between virtually any electronic device. Our smart IoT (Internet of Things) connectivity solutions enable sharing data between devices and applications to empower businesses to make better decisions based on real-time information, and gain a competitive advantage by generating new revenue streams, improving productivity and increasing efficiency and profitability. Easy to integrate and deploy, Lantronix products remotely and securely connect electronic equipment via networks and the Internet. Founded in 1989, Lantronix products have applications in every industry, including education, medical, security, industrial and building automation, transportation, retail, POS, financial, government, consumer electronics, and IT/data center. The Company's headquarters are located in Irvine, California. For more information, visit www.lantronix.com.