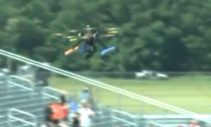 By Alan Levin
It came from the sky.
One moment, Eileen Peskoff was enjoying a hot dog after running with the bulls at a Petersburg, Virginia, racetrack. Then she was on her back, knocked down when a 4-foot drone filming the event in August lost control and dove into the grandstands where she was sitting.
"You sign up for something called running the bulls, you think the only thing you'll get hurt by is a 1,200-pound bull, not a drone," Peskoff said in an interview.
Drones flown for a business purpose, like the one that left Peskoff and two friends with bruises, are prohibited in the U.S. That hasn't stopped an invasion of flights far beyond the policing ability of theFederal Aviation Administration, which since 2007 hasn't permitted commercial drones in the U.S. while it labors to write rules to allow them.
Drones have nonetheless been used to film scenes in the Martin Scorsese-directed movie "The Wolf of Wall Street" and sporting events for Walt Disney Co. (DIS)'s ESPN. They've inspected oilfield equipment, mapped agricultural land and photographed homes and neighborhoods for real estate marketing, according to industry officials, company websites and videos on the Internet.
All such flights in the U.S. are outside the rules. While the FAA hasn't ruled out granting commercial-use permits under limited circumstances, it has so far only allowed operations in the Arctic.
Ignorance, Avoidance
Some operators plead ignorance of the rules. Some say their flying is legal under exemptions for hobbyists. Using drones is so lucrative for Hollywood that they're flown knowing they're illegal, said one operator who declined to be identified.
The FAA is aware the number of flights is increasing and tells users to stop when it learns about them, it said in an e-mailed response to questions. The agency said it's considering new guidance on what's permitted.
For every time the FAA orders an operator to stand down — as it did after a Michigan florist did a test delivery by drone Feb. 8, and in January with Lakemaid Beer, which posted a video online proposing 12-pack deliveries to Minnesota ice fishermen – – untold others fly below the radar, said Patrick Egan, a Sacramento, California-based author and producer of an annual unmanned aircraft expo in San Francisco.
Small drones available on the Internet or at hobby stores for less than $1,000 — some equipped with high-definition cameras like those made by San Mateo, California-based GoPro Inc. — are flooding the U.S. and being used by tens of thousands of people, whether legal or not, Egan said.
Airliners, Drones
The Federal Bureau of Investigation opened an investigation on March 4 after pilots on an Alitalia SpA Boeing Co. (BA) 777 nearing New York's John F. Kennedy International Airport spotted a multirotor copter that came within about 200 feet (61 meters).
At least six other pilots, including a crew on another airliner, have reported close calls since September 2011 with what they believed were small unmanned aircraft like those favored by hobbyists, cinematographers and other businesses, according to NASA's Aviation Safety Reporting System, which logs safety issues.
While the government needs to do more to control the growth in drones, it has been "swamped" by political cross-currents and budget cuts that have made it difficult to craft rules, Doug Davis, who ran the FAA's unmanned aircraft office in the mid-2000s, said in an interview.
'No Way'
As airline pilot unions call for strict standards on the qualifications of drone operators, industry advocates including Egan say the standards should be eased. Lawmakers such as SenatorDianne Feinstein, a California Democrat who said protesters flew toy drones outside her house last year, have pressed the FAA to add privacy requirements as it crafts safety rules.
"The FAA is going to have to step up the enforcement of people who use these things," Sean Cassidy, national safety coordinator for the Air Line Pilots Association, said in an interview. ALPA is the largest pilots union in North America.
The FAA conducted 17 enforcement actions for illegal drone use in the 13 months that ended in July 2013, according to agency data that doesn't include informal steps like phone calls. It has issued one fine, which is being contested.
The FAA, set up to enforce manned aviation, doesn't have the resources to enforce existing rules on a new form of flying that isn't tied to airports and requires so little training almost anyone can do it, Davis said.
"The reality is there is no way to patrol it," Davis said. "There's just no way."
Scorsese's 'Wolf'
Some businesses flying drones make little attempt to hide what they're doing.
Freefly Cinema, an aerial photography company in Los Angeles and Seattle, has photos on itswebsite of helicopter drones it says it flew to film scenes for "The Wolf of Wall Street" and a commercial for Honda Motor Co. (7267)
Tabb Firchau of Freefly declined to comment in an e-mail. Rebecca Cook at the public relations company 42West LLC, which represents Scorsese, didn't respond to e-mails requesting a comment.
A Freefly drone shot footage for a documentary about the U.S. Civil War battle at Gettysburg,Pennsylvania, that aired on most Public Broadcasting Service stations in the U.S. in November, the filmmaker, Jake Boritt, said in an interview.
Boritt said he got permission to film from the U.S. National Park Service. "It's not something that we did a whole lot of research into," Boritt said.
The park service, which controls access to the Gettysburg site and not the airspace, didn't check with FAA about aviation regulations, Katie Lawhon, a spokeswoman, said in an e-mail.
Worth It
While ESPN hasn't used drones to film events, some independent production companies supplying video to the network have, Josh Krulewitz, a spokesman, said in an e-mail. ESPN is telling production companies it works with to comply with regulations, Krulewitz said. He didn't specify events at which drones were used.
For Hollywood, the benefits of using drones are worth the miniscule risk of being caught, said an operator who films scenes for TV shows and commercials. He asked to be unidentified because the practice isn't permitted.
An unmanned aircraft system costing a few thousand dollars or less can replace dollies, booms and stabilization equipment costing tens of thousands, this operator said.
Surf's Up
Eric Sterman, of Haleiwa, Hawaii, on Oahu's North Shore, created a stir this year in the surfing world with a series of drone-shot videos of some of the world's best surfers.
Sterman's videos show wave riding at Oahu's Banzai Pipeline and Maui's Pe'ahi Jaws, filmed by a remote-controlled copter that floats above the waves. In one, filmed this year, his drone hovered next to a piloted helicopter also filming.
Sterman said in an e-mail he didn't go near the helicopter. "I'm just having fun filming as a hobby and sharing it with friends and followers," he said. Sterman, who lists a professional photo agency on his Vimeo.com page, said he wasn't paid for any of his drone video work.
Flying model aircraft is permitted provided it's for recreation only, the FAA said in a written response to questions. In a 1981 advisory, the FAA said these unmanned aircraft should be flown no higher than 400 feet and away from populated areas. It also said they shouldn't be flown near planes and helicopters, and that operators can't use the hobbyist exemption to fly commercially.
'High Concern'
Flying a drone next to a helicopter violates safety protocols, Matthew Zuccaro, president of Helicopter Association International, an Alexandria, Virginia-based trade group, said in an interview.
"We have a very high concern that there are people operating unmanned vehicles without our knowledge and without communications," Zuccaro said.
Asked by the Australian surfing publication Swellnet.com about the regulations, Sterman said, "I know you can fly them as a hobby. But no, I really don't know the rules at all," according to a Jan. 15 story.
The drone that hit Eileen Peskoff and two friends, Brad Fillius and Patrick Lewis, on Aug. 24 is owned by Scott Hansen, a Virginia Beach filmmaker.
Hansen was hired to produce aerial views of the event for a promotional video, Rob Dickens, chief operating officer of The Great Bull Run LLC, said in an interview.
The drone was operated by an employee of a local hobby shop, according to the FAA. Hansen wasn't at the event, Dickens said.
Quad-Copter, GoPro
Peskoff said Hansen told her some of the batteries died. He wrote her a check for her medical bills afterward, Peskoff said. Hansen didn't return three phone messages left at his production company, Digital Thunderdome.
The FAA said it spoke with the operator and the hobby shop's owner to explain the rules, and the owner agreed to provide training for customers who purchase model drones. Additional enforcement action is still being considered, the agency said in a statement.
"It was kind of lucky," Peskoff said. "The place was filled with young people. It hit three adults instead of a child."
Also filming that day was a drone being flown for ESPN's Kenny Mayne's Wider World of Sports show, Matt Doyle, executive producer and director of Big Brick Productions in Manchester, New Hampshire, said in an interview.
The production company has used drones to film commercials and feature shows for ESPN, and hasn't looked into the legal restrictions, Doyle said.
"It seems like everyone and their mother has a quad-copter and a GoPro attached to it," he said. "It's not just a production company."
Vague Rules
GoPro, which filed for a U.S. initial public offering last week, makes cameras that surfers, skiers and sky divers use to record their exploits. Katie Kilbride, a spokeswoman, said the company declined to comment on drone operations and safety.
Drone advocates like Egan and the Association for Unmanned Vehicle Systems International, an Arlington, Virginia-based trade group, said the FAA's drone standards are vague and helped lead to the explosion of users pushing the envelope.
"AUVSI is certainly concerned that the longer FAA takes to write the safety rules for small unmanned aircraft, the more difficult it will become to regulate this industry," Ben Gielow, general counsel of the group, said in an interview.
'Careless, Reckless'
The FAA had planned to propose rules by 2011 allowing commercial flights with drones weighing less than 55 pounds (25 kilograms). The agency now doesn't expect to unveil the proposal until November.
The agency also isn't expected to meet a Congress-imposed deadline to craft rules for safely integrating unmanned aircraft into the nation's airspace by 2015, the Transportation Department's inspector general said in a report Feb. 5.
Even without those regulations, the FAA says it has the authority to prohibit commercial unmanned aircraft operations and "careless or reckless" flights by drones, which it calls unmanned aerial systems or UAS.
On Feb. 12, for example, an FAA inspector called Wesley Berry, chief executive officer of Flower Delivery Express LLC in Commerce, Michigan, after the company posted a video showing a drone delivering flowers to a home, Berry said in an interview. The tests, which showed the technology wasn't ready for routine deliveries, were shut down, Berry said.
'Genie Out'
"We are concerned about any UAS operation that poses a hazard to other aircraft or to people and property on the ground," the agency said in a statement.
After the agency fined a Swiss man $10,000 for flying a drone over a Virginia university in 2011, the only fine the FAA has issued, his lawyer argued there were no regulations that applied. An administrative law judge hasn't ruled on the appeal.
The number of civilian unmanned aircraft will reach 175,000 by 2035, most of them smaller models, a report by the Cambridge, Massachusetts-based Volpe National Transportation Systems Center found. Many such aircraft, such as the DJI Phantom 2, are already on the market.
"All of these people are out there flying trying to make a buck," Egan said. "The genie is definitely out of the bottle."
To contact the reporter on this story: Alan Levin in Washington at [email protected]
http://www.bloomberg.com/news/2014-02-14/illegal-drones-dare-faa-to-stop-filming-wolf-to-bulls.html