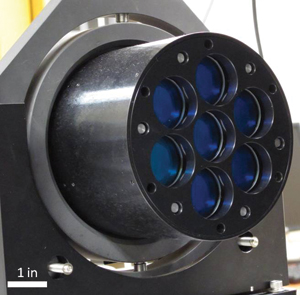 ARLINGTON, Va.-U.S. military researchers are hiring two defense companies to develop technology for pod-mounted laser weapons to protect manned aircraft and unmanned aerial vehicles (UAVs) from electro-optical and infrared (EO/IR)-guided surface-to-air missiles.
Officials of the U.S. Defense Advanced Research Projects Agency (DARPA) are choosing the Northrop Grumman Corp. Aerospace Systems segment in Redondo Beach, Calif., and the Lockheed Martin Mission Systems and Training segment in Akron, Ohio, for Project Endurance to develop laser weapons to defend aircraft from missiles.
Northrop Grumman is receiving a $14.6 million contract, and Lockheed Martin is receiving $11.4 million for the Endurance program. Project Endurance, previously part of the DARPA Excalibur laser weapons program, focuses on miniaturizing component technologies, developing high-precision target tracking, identification, and lightweight agile beam control to support target engagement. The program also focuses on the phenomenology of laser-target interactions and related threat vulnerabilities. Ultimately, the program seeks to develop pod-mounted lasers for drones and planes.
Among the Endurance program's goals are to design a miniaturized, flight-traceable, low-maintenance laser with an output beam strong enough to defeat incoming enemy missiles. The program also seeks to design a lightweight agile beam director and beam control technology to support coarse and fine tracking of moving targets.
DARPA researchers are interested in laser pods also capable of target-identification and target-engagement, and that can accommodate additional functions such as intelligence, surveillance, and reconnaissance (ISR) and target designation.
Also part of the DARPA Endurance program is the design of a high-precision coarse-to-fine-track and target identification subsystem, as well as test plans for laser effects testing. Later, the program will design and test miniaturized airborne defense laser weapons, laser effects testing, and estimate the vulnerabilities of enemy anti-air missiles to specific laser power levels.
The Endurance program emerged from the DARPA Excalibur program, which sought to develop coherent optical phased array technologies to enable scalable laser weapons that are 10 times lighter and more compact than high-power chemical laser systems.
The laser phased arrays developed in the Excalibur program were to combine low-power electrically driven lasers, such as diode lasers and fiber laser amplifiers, in a coherent way. The program also focused on laser beam-steering technologies to make laser arrays conformal with aircraft.
On the current contracts, Northrop Grumman will do the work in Redondo Beach, Calif.; Rolling Meadows, Ill.; Linthicum, Md.; Oxford, Mass.; and Pittsburgh, Pa. Lockheed Martin will do the work in Akron, Ohio; Orlando, Fla.; Sunnyvale, Calif.; and Palmdale, Calif. The companies should be finished with this phase of the Endurance program by December 2016.