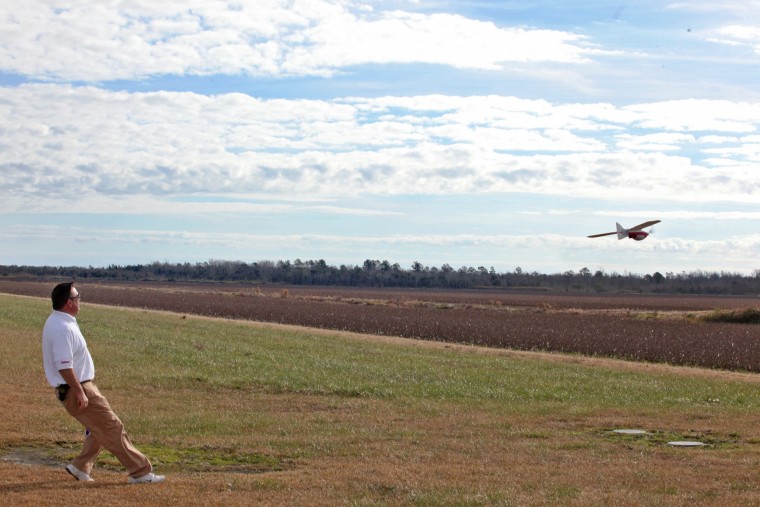 The Virginian-Pilot
Tom Zajkowski ran about 10 steps on the Hyde County Airport runway before heaving into the sky an airplane not much bigger than the hawk soaring over the cotton field nearby.
The battery-powered craft dipped close to the ground before rising with a soft whine to about 250 feet and soaring in wide circles above the airfield.
Pilot Ryan Paul guided the vehicle from a laptop set on the hood of a Hummer parked on the tarmac. Zajkowski is the flight operations manager, and Ryan is a graduate student working at the NextGen Air Transportation Center at North Carolina State University.
The airfield is competing to be one of six from among 25 sites in 24 states – including North Carolina and Virginia – selected by the Federal Aviation Administration to test drones for possible commercial use. The decision is expected by the end of the month.
"They're going to be Santa Claus for somebody," said Kyle Snyder, NextGen director. "I've got my fingers crossed."
Government agencies long have used drones for purposes ranging from research and fighting fires to patrolling borders and killing terrorists. They have become controversial to some, including those who mistrust them as instruments of spying on average citizens.
The negative connotations are why Snyder avoids calling them "drones."
"I'm not using the D-word," Snyder told a group gathered at the airport Friday for one of the routine tests carried out here since March.
Snyder's battery-powered Vireo built by UTC Aerospace Systems weighs about 3 pounds, has a 3-foot wingspan and flies 15 meters (just under 50 feet) a second for about an hour. A video camera attaches to its frame. Paul saw on his computer screen Friday what the craft's camera saw: people on the tarmac below and the surrounding cotton fields.
One of the most promising drone uses is in agriculture, said John Anderson, a director at N.C. State's research and economic development section. Airborne cameras will be able to detect drought, disease or insect infestation in crops. Crafts can scan several hundred acres of farmland in about 45 minutes. Crop analysts will be able to report back to farmers quickly where they should irrigate, fertilize or spray for pests, Anderson said.
"It will be a very powerful tool," he said.
Commercial uses in agriculture and other fields promise a thriving industry in a county that lacks the same and loses population with each census.
The commercial drone market could create more than 70,000 jobs nationwide, with an economic impact of more than $13.6 billion in the first three years after the FAA allows it, according to a study by the Association for Unmanned Vehicle Systems International. That could grow to more than 100,000 jobs and an $82 billion economic impact by 2025, the study said.
The FAA is concerned with safety, according to its report on approving unmanned aircraft systems. Commercial unmanned craft in heavily populated areas could buzz around skies already busy with piloted aircraft. The test sites are supposed to answer such questions as how high should drones fly, how big or small should they be, how should they be used, how often and by whom.
The FAA has approved 535 government entities, including Hyde County, to fly drones for specific purposes such as search and rescue, border patrol and research. More than a third of the sanctioned drone fliers are universities, Snyder said. The total has grown by more than 200 since February, according to the FAA.
Two commercial operations were approved for work in the Arctic, where they do not interfere with congested air space, Snyder said.
Plans are to develop the Hyde field whether or not it is selected as a national test site, said Kris Noble, Hyde County's planning director. Remote and unpopulated will be a good thing, she said.
"We have the perfect area here," she said.
http://hamptonroads.com/2013/12/nc-airport-hopes-host-unmanned-aircraft-testing