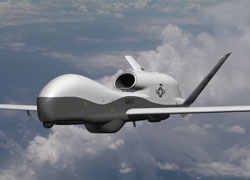 Opposition Leader Tony Abbott has stressed the need for unmanned drones to help protect Australia's borders in the wake of the Geraldton boat arrival.
The coalition has pledged $1.5 billion to buy and operate seven unmanned aircraft to patrol the Australian coastline.
The drone program would be fully operational by 2017-18, with the aircraft feeding information back to the navy and Customs.
Mr Abbott said the federal government had opened the door to people smugglers and the coalition would turn the situation around if elected in September.
"We do need unmanned aerial vehicles to ensure that we've got proper surveillance over the approaches to Australia," he said.
http://news.ninemsn.com.au/national/2013/04/11/11/17/abbott-wants-unmanned-coastline-drones