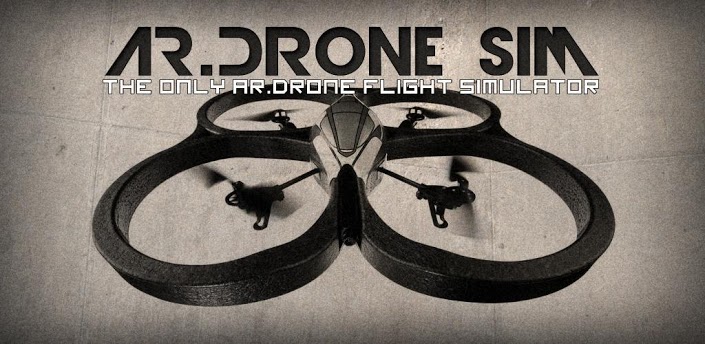 A big thanks to Dangerous Derk Interactive we have 5 Android and 5 iOS copies of AR.Drone Sim to give away as prizes. I am going to make winning a copy easy. The top 10 people sharing this post on social media sites win a copy. I should be able to pick up who you are if you try hard enough!
The most successful civilian unmanned aerial system to date did not earn its wings as a result of a military project or engineering necessity. Flying for fun is the goal. The very lines of the outdoor bodied Parrot AR.drone give away it's heritage.
It shares much of it's DNA with the X- UFO a multicopter designed in quadrocopter years decades ago by a German team. Marketed by Silverlit the X-UFO won Innovation Awards in 2005 and kickstarted the multicopter revolution.
The folk at Parrot are poised with their recent investment in Pix4D and Flight Recorder dongle to break into the grown up GIS and inspection market.
A host of potential end users could be training right now on the relative low cost high definition imaging platform the AR.drone 2.0, learning the Parrot and tablet way of doing things. A world of pick up trucks with multirotors in rugged cases sent up to look at a chimney or tile and nothing else is on the horizon. If images sent back don't show a problem no need for a ladder or scaffolding to be taken out with its associated risk and time.
The app available in
fruit
and
robot flavours
is simplicity itself, it took me a few moments to adjust the settings to a standard Mode 2 arrangement. That's where you have throttle and yaw on the left stick and pitch and roll on the right. The way most Europeans fly model aircraft. Mode 1 flying is also supported along with a tilt mode. As you move your tablet the airframe responds accordingly.
Flying was incredibly simple, if you have not had any stick time it would soon set you straight. A great way of practising when the winds blowing or your commuting on the train! The hardest thing to get the hang of when starting to fly hovering platforms is nose in flight. With this sim, you can keep trying until your tablet battery flattens and risk no equipment.
My son's 12 and 9 have flown the sim, and they both immediately took to the tilt control mode. Within moments they were flying around obstacles and through the hoops. Dad, just can't get the hang of it. Too many years of doing things the other way.
In the words of Dan (9)
"You'd be better off having the sim rather than the real drone because the real one is very expensive"
Not having flown a real AR.drone I suspect things can't be as straight forward as on the simulator. Wind must certainly play a part. The sim airframe just sits there if you take your fingers off.
Flying takes place indoors and outside in the Warehouse level you fly through tunnels & try to land on pallets. The maze reminded me of a VIC-20 game, 3D maze from way back when! Once you have mastered the craft you can even have a crack at a virtual version of the AR.Drone grand finale 2012. A competiton created by the folks at Parrot that took place in Las Vegas at CES 2012.
I watched the videos last year and having had a virtual go at it I have a new found respect for the contestants.
An AR.drone 2.0 is in our future for review and myself and the boys are certainly now aware of how the controls work, what the camera modes are. Once we have flown the real one we will revisit the sim and see how it compared.