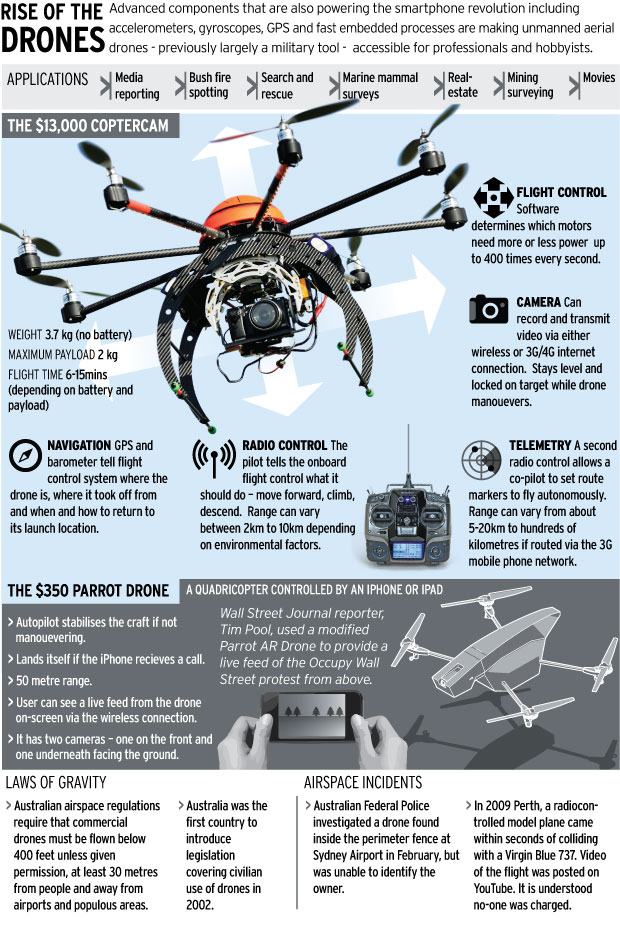 Technology Editor
"We're entering the Drone Age." So says Chris Anderson, editor-in-chief of Wired magazine and a man who fancies himself as the Steve Jobs of the drones.
Australia entered the Drone Age in 2002, when it became the first country to introduce legislation covering unmanned aerial vehicles, leading the world in creating rules governing civilian use of the technology.
Drones have since been employed by real estate agents, miners, marketers, environmental surveyors, even lifeguards.
The same technology that has powered rapid advancements in smartphones – including accelerometers, gyroscopes, optics, GPS, fast embedded processors, wireless, batteries – has also led to an explosion in inexpensive drones for hobbyists and researchers. Even the most basic models can fly by remote control or autonomously, navigating using GPS and recording high-definition video.
Mr Anderson compares the potential of the drone revolution to the rise of personal computers since the late 1970s.
http://www.brisbanetimes.com.au/technology/technology-news/here-comes-the-drone-age-20120910-25o6p.html#Infograph