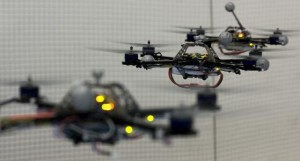 By Miko Morelos
Philippine Daily Inquirer
Starting April 15, the Metropolitan Manila Development Authority (MMDA) will be bringing its traffic monitoring system to new heights, literally speaking, with the help of unmanned drones equipped with closed circuit television (CCTV) cameras.
MMDA Chairman Francis Tolentino has announced that they would start testing the flying machines next week.
The drones were built by high school students from Dr. Yanga College Inc. who have competed in local and international robotics competitions.
During a visit to the MMDA headquarters in Makati City in February, Tolentino asked the students if they could build unmanned drones that could fly overhead and monitor the streets in the metropolis.
In an interview last week, Tolentino said the drones were expected to complement their newest pair of electronic eyes, the Mobile Metrobase, a van equipped with TV screens, a microwave antenna and a camera capable of a 360-degree view.
The van is fitted with five TV monitors, three of which are linked to the major networks. Another is hooked up to a laptop, which receives live feed from the MMDA's CCTV cameras around the metropolis and another screen for a traffic navigator system.
As for the unmanned drones, Tolentino said these can fly to a height of 10 stories and stay up in the air for three flight hours.
"I think the drone could fly to Sangley Point (in Cavite) in that flight time," he told the Inquirer.
Just as the Mobile Metrobase will keep traffic monitors mobile, the unmanned drones will allow the MMDA to get into hard-to-reach areas, especially during mass activities like religious processions, Tolentino said.
The MMDA chairman, in a radio interview Sunday, also announced that three other agency vehicles were being modified and converted into Mobile Metrobases. He christened the first van, which was launched last week, as "Agila One."
He said his staff was working on "Agila Two" or the Mobile Metrobase bus. The vehicle will have the same features as Agila One, including a CCTV camera and television monitors.
http://newsinfo.inquirer.net/173565/mmda-fields-drones-to-monitor-traffic