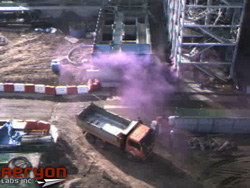 The Aeryon Scout micro-UAV contributed to security preparation and response measures for the G50 Nuclear Security Summit in Seoul, South Korea – demonstrating the real-world application of small UAVs for event and VIP security
It can now be disclosed that in advance of the arrival of government delegations and heads-of-state from around the world, the Aeryon Scout™ was already flying in Seoul, South Korea.  In partnership with SIS Corporation of South Korea, local military and police were being trained to use several Scout systems as part of advance security preparations for the international summit on March 26-27, 2012.
"Contributing to security measures for a high-profile international event such as the G50 says a lot about the maturity of the Aeryon Scout system" said Dave Kroetsch, President of Aeryon Labs.  "The Scout continues to prove itself as the small UAV [Unmanned Aerial Vehicle] of choice for mission-critical deployments due to its unique combination of reliable operation in challenging real-world conditions, while providing an extremely easy-to-use touchscreen control interface with advanced automated features and failsafes."
Event and VIP security is a vital function of military, government, and public safety agencies – for which aerial observation from a small UAV provides several significant advantages over traditional manned aircraft.   Small UAVs such as the Scout can be immediately available to provide an aerial perspective that is directly controlled by the ground operator.  Vertical Take-Off and Landing (VTOL) capabilities of the Scout facilitate easy launch and retrieval, stable fixed-hover observation for monitoring and tactical coordination, and operation in confined environments with greatly reduced risk to air and ground personnel.  Small UAVs are also generally less disruptive to both the mission and public due to their small size and quiet operation.  The same benefits apply to related security applications for small UAVs including traffic and crowd control.
The Scout's VideoZoom10x and Thermal FLIR integrated imaging payloads were used to provide day and night aerial surveillance.  These video feeds were available to both ground operators, and a centralized command center to which video could be streamed over the internet.
"Our team trained several military teams on the operation of the Aeryon Scout to prepare for deployment of several Scout systems around the G50 facilities – the Scout performed its missions reliably with only limited user training", said Mr. In-Seung Shin, President of SIS Corporation.
SIS Staff Demonstrate Aeryon Scout to South Korea
Joint Chiefs of Staff, Chief of Staff Army, Commander of National Intelligence Service
Further details about G50 security preparation or response measures were not disclosed.