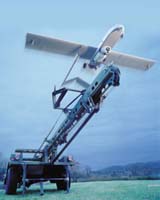 Dedicated Asset Allows UAS Test Directorate to Assess New Technologies, Support New Missions for Marine Corps
HUNT VALLEY, Md., Nov 02, 2011 (BUSINESS WIRE) — AAI Unmanned Aircraft Systems (UAS), an operating unit of Textron Systems, a Textron Inc.  company, announced today that Naval Air Warfare Center Aircraft Division, UAS Test Directorate has established and demonstrated a dedicated Shadow Tactical Unmanned Aircraft System for test and evaluation purposes.
"Our Marine Corps customers have utilized Shadow systems in operational areas including Afghanistan and Iraq for many years now, and they continue to demonstrate new and innovative operational concepts for them," says Senior Vice President & General Manager Steven Reid of AAI UAS. "This dedicated test and evaluation system is an excellent way for them to continue this innovation by validating new missions for their Shadow assets."
Having completed its inaugural flight from the Webster Field Annex in Maryland, just miles from Naval Air Station Patuxent River, the system will be used to support U.S. Navy and Marine Corps Small Tactical UAS Program Office (PMA-263) test and evaluation initiatives, including the Wide Focal Plane Array Camera (WFPAC) payload development effort. The WFPAC payload would enable Shadow system users to conduct persistent surveillance over wider search areas. Apart from WFPAC payload testing, the Shadow test and evaluation system also is slated to be used by PMA-263 in testing other new payloads to support additional new mission profiles.
AAI's longstanding relationship with PMA-263 started in the 1980s, upon the Navy's selection of the Pioneer(R) Unmanned Aerial Vehicle after a competitive fly-off. The RQ-2 Pioneer systems were workhorses for the Navy, with a storied history including Iraqi troops offering surrender to an aircraft during the Gulf War in the early 1990s. The last Pioneer systems were retired from service as recently as 2007.
"Along with many of our team members, I have fond memories of working at the same location many years ago, testing the Pioneer unmanned aircraft assets that served the Navy so well until the fleet's retirement," says Reid. "It is tremendous to be back on-site with this group again to evaluate state-of-the-art UAS capabilities with the Shadow system."
Shadow Tactical UAS are in service with the U.S. Army and National Guard, as well as the Marine Corps, and have been selected for allied armed forces in both Italy and Sweden. With their broad capability and reliability, Shadow systems have amassed more than 680,000 total flight hours.