European Medical Drone, the Swedish drone operator focusing on connecting hospitals by means of drone transportation, and Dufour Aerospace, the Swiss eVTOL innovator today signed a development cooperation and purchase agreement for 11 Aero2 uncrewed tilt-wing aircraft. The agreement includes the delivery of one Aero2 X2.3 prototype aircraft in 2024 and 10 serial Aero2 aircraft with delivery starting in 2026. Savback Helicopters, a Swedish helicopter vendor and partner of Dufour Aerospace, is assisting with this transaction.
"Dufour's Aero2 is exactly what we are looking for, and at this stage, we do not see another product offering the same features close to market entry," said Martin Braaen, Founder of European Medical Drone. "Our mission is to facilitate the sharing of vital resources among hospitals. Our system allows hospitals to request and receive essential supplies such as blood, medicines, and medical equipment.
As we have a focus on connecting hospitals that are several hundred kilometers apart, we need long-range, heavy-lift, uncrewed aircraft with a lot of redundancy for safety. We do have very knowledgeable partners in our project, and with the addition of Dufour Aerospace, we will be one step closer to the aim of connecting hospitals with automated, fast, and reliable transportation services in large countries like Sweden. We are excited to team up with Dufour Aerospace to introduce our service in Scandinavia."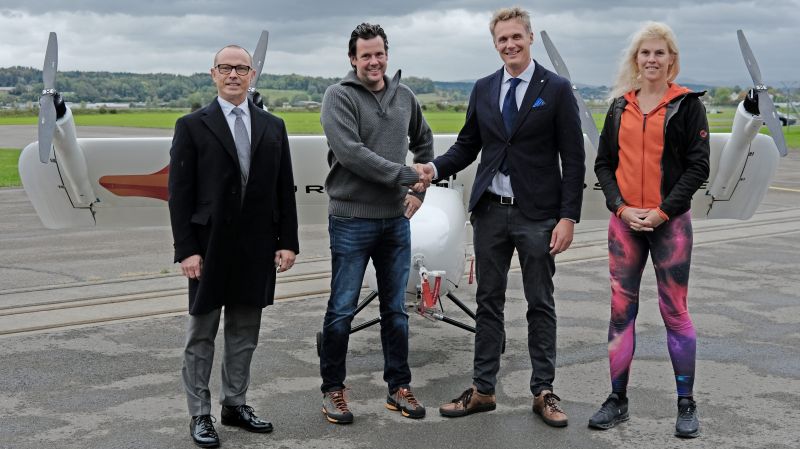 "Dufour Aerospace shares European Medical Drone's vision and values, and our Aero2 has exactly been designed for the delivery of critical cargo over long distances, facilitating today's logistics where this is beneficial," said Thomas Pfammatter, CEO and Co-founder of Dufour Aerospace. "Connecting hospitals in a fast, reliable, and efficient way makes a lot of sense in our eyes, and this will even become more important in the future. We are very happy to support European Medical Drone with our products and contribute to their activities towards building a medical logistics network to the best of our abilities. This development cooperation and purchase contract is of particular importance to us, as it confirms that our high-level specifications meet not only use cases overseas but also in Europe."
"Savback Helicopters, as the sole, exclusive agent for the sales of Dufour Aerospace products in the Nordics, is proud to be a part of this groundbreaking collaboration, showcasing our commitment to advancing the future of aviation and medical logistics through cutting-edge technologies. Together with Dufour Aerospace, we look forward to supporting European Medical Drone's mission of creating a robust medical logistics network that offers swift, reliable, and efficient transportation services to hospitals in Scandinavia. From medical logistics to search and rescue operations, and from law enforcement to aerial surveying, the Dufour Aero2 has been purposefully designed to meet the diverse needs of modern aviation. Its ability to seamlessly transition between roles and missions makes it a standout choice for a wide range of applications," said Michael Savbäck, Founder and CEO of Savback Helicopters.
The three companies will collaborate specifically with a view to introducing the Aero2 uncrewed aircraft on first routes between hospitals in Sweden, together with the partners of European Medical Drone. This work will include drafting the necessary concepts of operations, submitting the necessary documentation to the authorities, and carrying out trial operations to identify both the potential and limitations of operations and implementing use case-specific requirements into the aircraft.
About European Medical Drone
Headquartered in Gothenburg, Sweden, European Medical Drone is a team of experienced helicopter pilots who have embraced the exciting world of drone technology. Driven by a profound passion for drones and aviation, this enthusiasm spurred them to develop a project that taps into the remarkable abilities of these aerial devices. Witnessing drones operate autonomously has been truly captivating. Comprising drone enthusiasts and aviation experts, their team blends rich piloting backgrounds with cutting-edge drone technology. Their journey as helicopter pilots from the beginning gives them a unique perspective in the field, allowing them to appreciate both traditional aviation and the innovative potential of drones. Emphasizing safety and efficiency, they set the standard for drone-operated medical transport.
‍www.europeanmedicaldrone.se‍
About Dufour Aerospace 
‍Dufour Aerospace develops efficient and ecological aircraft for patient and passenger transport, logistics and public safety. Dufour Aerospace's designs currently under development rely on the tilt-wing principle. They take-off and land vertically in the smallest space like a helicopter but fly as fast and economically as an airplane. While the propellers are electric-driven, hybrid elements (conventional combustion engines or fuel cells) ensure a sufficiently long range. The first product Dufour Aerospace will launch is the Aero2, an uncrewed aerial vehicle specifically designed for the transportation of critical cargo such as medical supplies of up to 40 kilograms/88 pounds in medium to long range distances. The manned Aero3, featuring a spacious cabin with eight seats and large doors, is the next aircraft in development by Dufour Aerospace.
www.dufour.aero
‍About Savback Helicopters
‍Savback Helicopters AB is a trusted, international, and independent vendor of new and pre-owned aircraft. These core offerings are underpinned by expert aircraft buying & selling services and consultancy. Over the last two decades, Savback has successfully garnered a wide international customer base supplying aircraft to a discerning client base all over the world. Since 1990, the company has sold over 900 helicopters, providing many satisfied private, public and commercial clients. With customer care as their guiding principle, they are now working on a number of exciting new initiatives that they believe will revolutionise the aviation market.
‍www.savback.com

‍