The US Air Force's AFWERX has chosen Near Earth Autonomy (Near Earth) to collaborate on a reliability standard for autonomous aerial transport as part of the Autonomy Prime program. This significant partnership underscores Near Earth's commitment to advancing autonomous aircraft technology to new heights.
As the widespread use of uncrewed aircraft becomes increasingly prevalent, autonomy will play a critical role in overcoming the challenges currently managed by crew. However, there remain open questions about the considerations and processes necessary to achieve the reliability required by regulators, insurers, and end-users. Near Earth and AFWERX aim to address these questions and create a risk-based approach for the accreditation of autonomous uncrewed aerial vehicles (UAVs), providing assurance equivalent to commercial Part 135 crewed operations, with less than 1 accident in 100,000 flight hours.
This collaboration will see Near Earth and AFWERX establish an accreditation process to formalize assurance for autonomous aircraft. The process will consider both the autonomous aircraft's capabilities and the operational environment to create safety cases for typical transport operations. Near Earth will also develop an architecture that enables high-reliability and supports Modular Open System Architecture (MOSA)-compliant interoperability, ensuring that autonomous aircraft can operate safely and efficiently.
"The upcoming effort with Near Earth Autonomy is incredibly important for informing certification for autonomous capabilities, with significant benefits to both the commercial and government aviation
autonomy communities," said Lt. Col. Tom Meagher, AFWERX Prime Programs lead. Sanjiv Singh, CEO of Near Earth, said, "Going forward, we expect that autonomy will be integral to military flight operations, and it will be the way that commercial flight operations will scale. The task is not only to develop autonomy to assure safety and efficiency but to make the case that the autonomy will deal with the edge cases. AFWERX has a deep understanding of both the challenge and opportunity at hand. They are bringing all the necessary pieces together to make the widespread use of uncrewed logistics a reality. We could not ask for a better partner to bring the benefits of autonomous uncrewed logistics to the defence and commercial sectors at scale."
"AFWERX Prime is excited to partner with Near Earth Autonomy and leverage their over 10 years of experience, to explore safe, autonomous flight in uncrewed aerial vehicles, "said Lt Col Bryan Ralston, AFWERX's Autonomy Prime Lead. "Evaluation of these technologies and moving towards certification is incredibly important for future autonomous operations in the Department of Defense."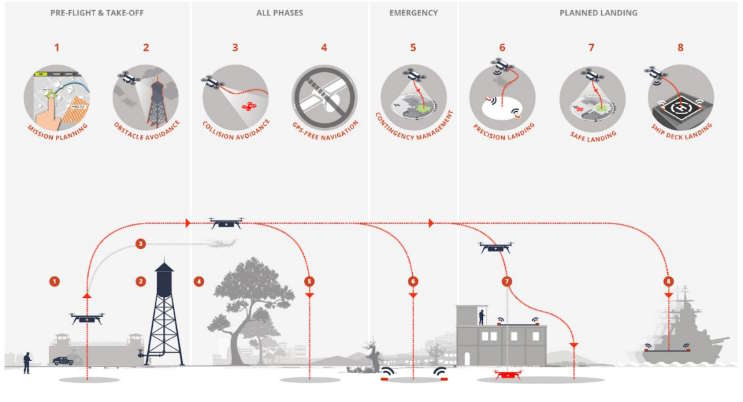 Autonomy capabilities that can be integrated modularly with aircraft from small drones to full-scale helicopters
Since 2012 Near Earth has been developing, maturing, and demonstrating autonomous flight systems that enable safe uncrewed aerial vehicle operations. Near Earth focuses on aerial logistics required to resupply troops in forward, unimproved environments with minimal or no infrastructure. Near Earth has a history of successfully achieving "world firsts" autonomous flight from proof of concept to practical use across a wide range of capabilities and aircraft sizes, and types. To date, Near Earth has integrated its technology with over 100 aircraft and logged more than 3,000 flight hours on over 6,600 flights. Near Earth will exhibit from May 9-11, 2023, in Booth #4213 at the AUVSI Xponential Event in Denver, CO.
Near Earth is maturing its autonomy technology for rapid, distributed, uncrewed logistics across scale.
About Near Earth Autonomy
Near Earth's technology allows aircraft to autonomously take off, fly, and land safely, with or without GPS. Their solutions enable aerial mobility applications for partners in the commercial and defence sectors. Near Earth bridges the gap between aerospace and robotics with complete systems that improve efficiency, performance, and safety for aircraft ranging from small drones to full-size
helicopters.
Their work won the 2023 Association for Uncrewed Vehicle Systems (AUVSI) Xcellence in Mission –
Humanitarian Finalist Award, 2022 Pittsburgh Technology Council AI/ML/Robotics – Innovator of the Year Award, the 2018 Howard Hughes Award recognises outstanding improvements in fundamental helicopter technology and was a 2017 finalist for the Collier Trophy, one of the top aviation awards in the world. More information is available at https://www.nearearth.aero/
For additional media and information, please visit:
● Website: https://www.nearearth.aero/
● Facebook: https://www.facebook.com/Near-Earth-Autonomy-238476926498289/
● LinkedIn: https://www.linkedin.com/company/near-earth-autonomy
● Twitter: https://twitter.com/NEAutonomy
● YouTube https://www.youtube.com/c/NearEarthAutonomy
● Press Releases: https://www.nearearth.aero/press-releases
● Press Contact: [email protected]
About AFWERX
AFWERX, a program office at the Air Force Research Laboratory (AFRL), connects innovators across government, industry, and academia. Through innovation and collaboration with our nation's top subject-matter experts, AFWERX harnesses internal talent and expands technology, transitioning partnerships for rapid and affordable commercial and military capability. In 2020, Fast Company ranked AFWERX #16 of Best Workplaces for Innovators, alongside brands such as Microsoft, Google and Amazon.
Additional information is available at: https://www.afwerx.com/