Maybe you are considering giving someone a drone for Christmas? EASA is happy to see growing numbers of responsible drone pilots. So we thought we would offer a few hints.  
Choosing the right drone for the right person can be challenging. This guide will give you some pointers and summarises some of the things you need to be aware of and to keep in mind.
Aspects to keep in mind when buying a drone
Minimum age for a drone pilot/operator
In general, drone pilots/operators in the 'open' leisure category need to be 16 years old. However, check with your National Aviation Authority, some countries have a slightly lower minimum age requirement of 14 years for example.
The weight of the drone
For drones above 250 grams (with or without camera or sensors on board, which covers the vast majority of drones) the drone pilot/operator needs to:
Register online with their National Aviation Authority (as an operator, not as a pilot),
Place the operator's registration ID number on the drone or drones if the owner has more than one (the same number for all their drones).
The pilot also needs to complete the online training supplied by their National Aviation Authority and pass the exam.
Requirements for toy drones
Drone  operator's registration and pilot's exam
A drone is classified as a toy if it complies with the EU toy regulations. This can be found stated either on the box or in the drone's instructions. If the drone is a toy, you don't need to register as an operator and/or pass the pilot's exam, even if the toy drone is equipped with a small camera on board.
However, if the drone is heavier than 250 grams, it is no longer a toy drone. This means the operator needs to register himself and the pilot needs to pass the online training and online exam.
Toy drone pilot's age
If the drone is a toy, there is no minimum age for flying it. However, all the young drone pilots are still responsible for their actions when flying,
It is recommended that minors fly any toy drone under the supervision of an adult, to get familiar with the drone's manual, check if it is allowed to fly in the area where you want to fly.
Golden Rules for drone safety
The golden rules for drone safety are the key safety elements drone operator and pilots need to keep in mind. 
SAFE, follow the rules and the drone's manual
MAINTAIN, the right distance and attitudes
ASSESS, surroundings and check where you are allowed to fly
RESPONSIBLE, for every flight and other people's privacy
TRAIN, complete the online training and the exam
Who can fly what type of drone?
The below schematic view gives you a good overview about who can fly what drone in what subcategory under what conditions. Read it carefully, it will help you with your decision what drone to go for.
Click on the image to open and download the PDF.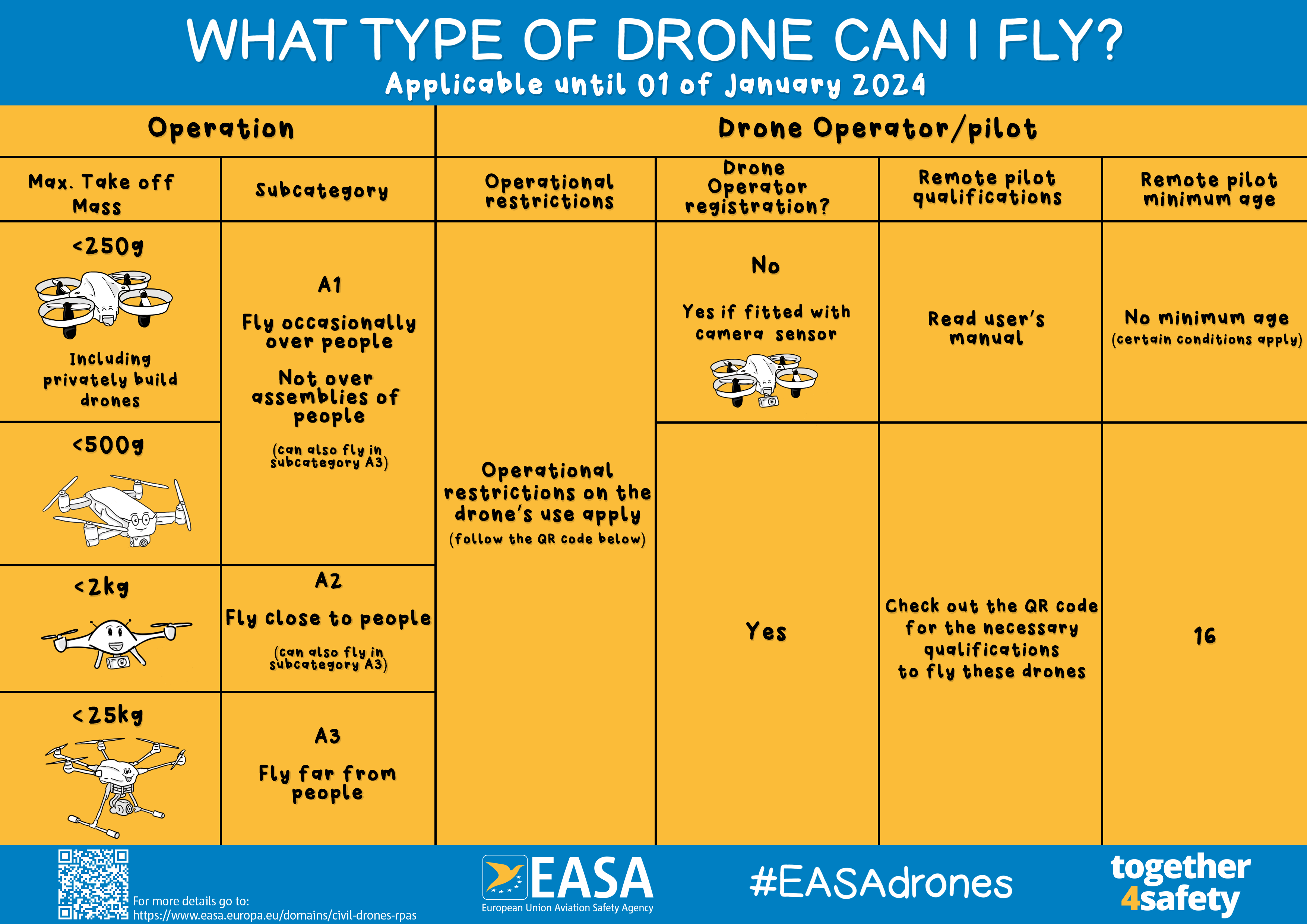 Drone operators and pilots
Visit EASA Light in December for a new article with more details for drone operators and pilots. EASA will give more details to ensure new drone operators are aware of all their obligations and have guidance at hand.
More  information can be found at:
Share this article with the new owner
Make sure the recipient of your Christmas gift – the new owner or pilot – is aware how and where to find information.
EASA has compiled this article to ensure everyone is aware about what they have to do, what rules they have to follow and how to be a good drone operator and pilot.
Share this article with them !
Related Content
EASA Pro – Frequently Asked Questions (FAQs) for the open category
EASA Pro – Information on toy drones