uAvionix Corporation today welcomed a new team member to our line-up of certifiable avionics for Unmanned Aircraft Systems (UAS). Weighing in at only 80 grams, George is the first autopilot product from uAvionix, and the world's most affordable, lowest SWaP, certifiable, made in the U.S.A. solution for enterprise operations and those wishing to type certify their UAS.
Built around the world-class Cube from CubePilot, George is a perfect marriage of the innovation of over a decade of open-source autopilot excellence with a Design Assurance Level (DAL) C hardware and safety and sensor monitoring, enabling our customers to meet the Type Certification and safety case requirements for Beyond Visual Line of Sight (BVLOS) operations.
George's triple redundant IMU system includes 3 accelerometers, 3 gyroscopes, 3 magnetometers, and 3 barometers, one of which has been TSO certified under TSO-C88b in other uAvionix products such as skyBeacon, tailBeacon, and ping200X. The hardware platform is designed and built to RTCA DO-254 DAL-C, and meets rigorous DO-160G and MIL-810H power and environmental qualifications.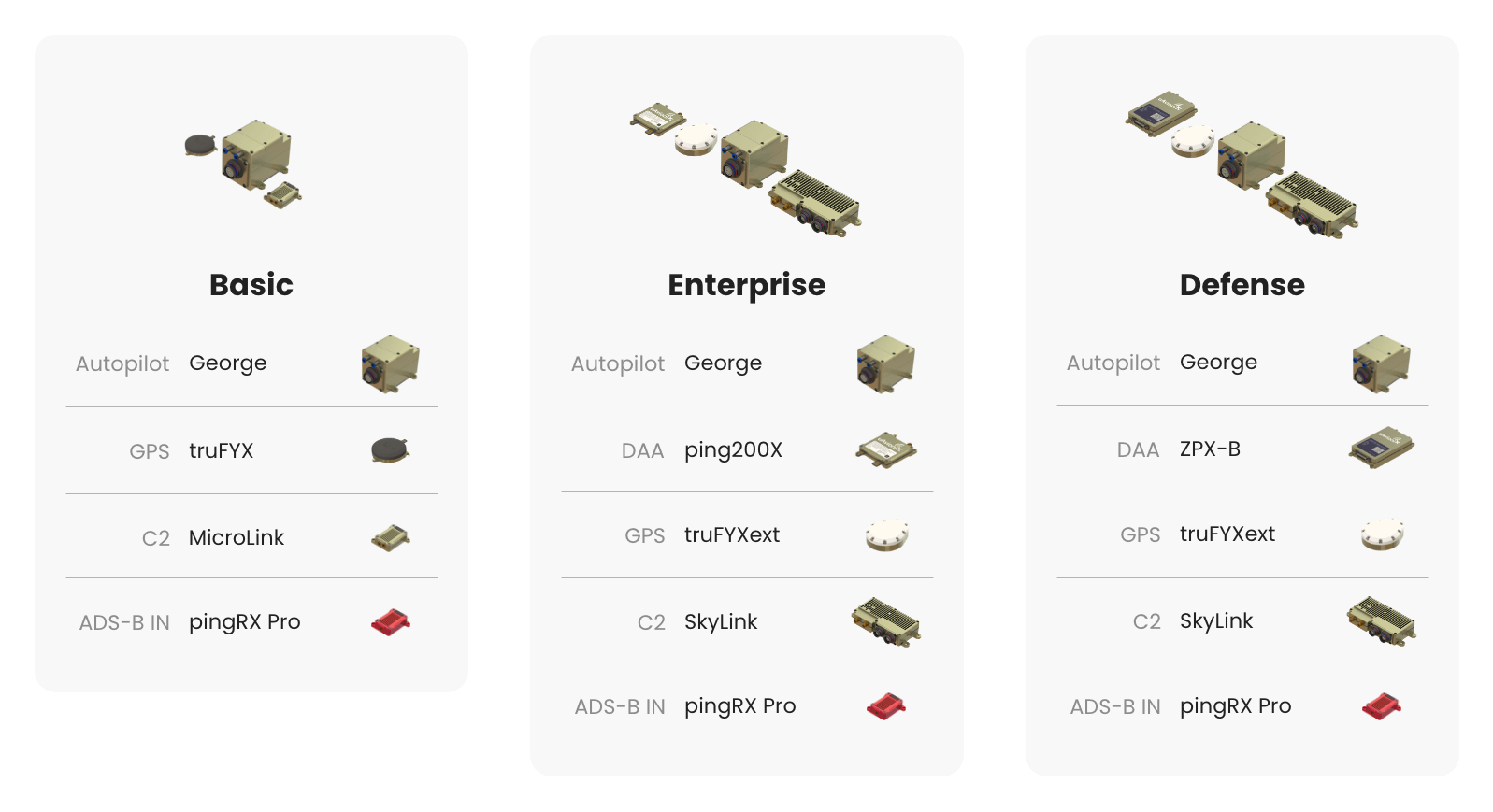 George is plug-and-play compatible with all of uAvionix's certified and uncertified products, including truFYX GPS (TSO-C145e), ping200X (TSO-C112e, TSO-C166b, TSO-C88b), RT-2087/ZPX-B (AIMS MkIIB), as well as pingRX Pro dual-band ADS-B receiver for Detect and Avoid (DAA) and the microLink or SkyLink C Band Command and Control (C2) solutions.
"The flight control capabilities of the Cube are superb, backed by hundreds of thousands of man-hours of engineering and experimentation over the past 10 years," said Paul Beard CEO of uAvionix. "But what has been lacking is a hardware platform that matches that capability in robust performance. George brings everything we've learned about certified avionics to the autopilot space in a way that outperforms existing enterprise and military autopilots in a lower SWaP package."
George will be available for beta test launch customers in June 2021 with production units available in the Fall.
About uAvionix Corporation
uAvionix was founded with the mission of bringing safety solutions to the unmanned aviation industry to aid in the integration of Unmanned Aerial Systems (UAS) into National Airspace Systems (NAS). uAvionix offers low-SWaP TSO-certified and uncertified avionics for General Aviation (GA), Airport Surface Vehicles, and the UAS markets. Its unparalleled engineering and management teams bring a unique combination of experience, drawing on avionics, surveillance, airport services, UAS aircraft development, radio frequency (RF), and semiconductor industries. uAvionix is backed by investors at Playground Global and Airbus Ventures.
To learn more about uAvionix manned and unmanned products, please visit: www.uavionix.com