Hitting Indiegogo with lots of compelling design considerations, the Gannet Pro fishing line dropping drone.
Fishing for large fish beyond the breakers by first looking for them and then dropping the bait and a hook in front of them is quite popular here in South Africa. I have heard it can be a commercial opportunity.
This is not a small machine, it can lift up to 5kg.
The Gannet Pro drones have been designed as short-distance delivery drones, unlike most other drones that are symmetrical camera platforms, with a camera hanging from the bottom and able to fly at near identical speeds in any direction, the Gannets are streamlined to fly forward
significantly faster and with less power usage than most camera platform drones.
As a result, Gannet Drones are unmistakably recognizable and very unique in shape. This came about as a result of placing the gimbal and GPS far upfront in the head with sweeping aerodynamic arms.
Resembling a skydiver or perhaps even a flying penguin. When hovering
in place the elongated body is slanting backwards this so that when the body is horizontal the drone is already travelling forward at speed. This results in the smallest possible frontal area cutting through the air conserving battery power as much as possible.
The keen eye will notice that nothing is straight on these drones, not one of the motors line up, the slanting body and curved asymmetric arms all contribute in making these some of the most power-efficient drones to be brought to market.
Colour scheme:
In the natural world, animals have adopted colours that blend into their environments, be they hunters or prey. The Great White, killer whales, penguins and even some seagulls are all light below and dark on top. This to help blend in when viewed directly from above or from below
in their 3-dimensional worlds.
However, the two contrasting colours actually increase visibly when viewed from the side and this is why our Gannets are black and white. They stand out in any weather conditions at very long distances, making the visual line of sight flight to long distances more enjoyable.
Alongside with the colour scheme comes the asymmetric shape making it easy to see which the way the drone is facing.
Battery compartment:

The one thing that needs to be changed/charged in the field on a regular basis is the Lithium Polymer battery. For this, we placed the battery in its own waterproof compartment opening at the back of the drone.
To ensure ease of installation we created an easily accessible compartment in the back of the drone, sealed off from all internals. In the event that some sand compromises the seal only that compartment would seep with water and only the battery is exposed and not the expensive electronic internals.
The Gannet's double waterproof compartment design is unique to the Gannet Drone which makes them the safest waterproof drones on the market.
Flight control:

When looking for a reliable tried and tested flight control system we settled on one from the market leader in drone tech, DJI Naza mV2. As the market leader, we are confident that each Gannet drone has the best possible GPS and flight control system ensuring trouble-free operation.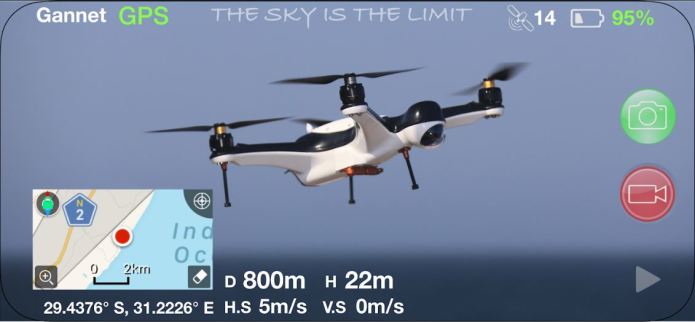 HD video:

An optional built-in internal 2 axis gimbaled camera provides live HD video to the connected Gannet App on a smartphone or tablet with both map and video display.
The camera is not intended for professional videographers or photographers as it is 2k (1080p) in resolution.
Its intended use is for clear live view to aid in SAR missions or for spotting fish when fishing. However, if 4K video is desired additional cameras can easily be fitted to several of the auxiliary mounting points.

Remote controller:
The remote control, like the drone, is focused on function. Splashproof, rainproof and sand-proof make it ideal for use on the beach or boat in any weather, even snow is no problem at all.
The control sticks and switches are sealed off with rubber bellows making sure that sand and dirt can't jam them up, as is so often experienced with standard controllers.
With a built-in LCD display providing the operator with everything they need such as the drone's vital telemetry, distance, hight, drone battery and GPS satellites. With this, the Gannet can be flown without connecting a smartphone or tablet.
Connecting a smart device through the Gannet app to the drone provides a high definition display for video feedback and realtime map location. This also then stores the flight logs and history in the App.
Battery charging
With the main market for Gannet drones being people that will be away from their home base, all Gannets come with a battery charger that can recharge the battery in about 1hour from a 12V DC battery or 110V-240V AC power outlet making field charging easy and convenient.
Our Journey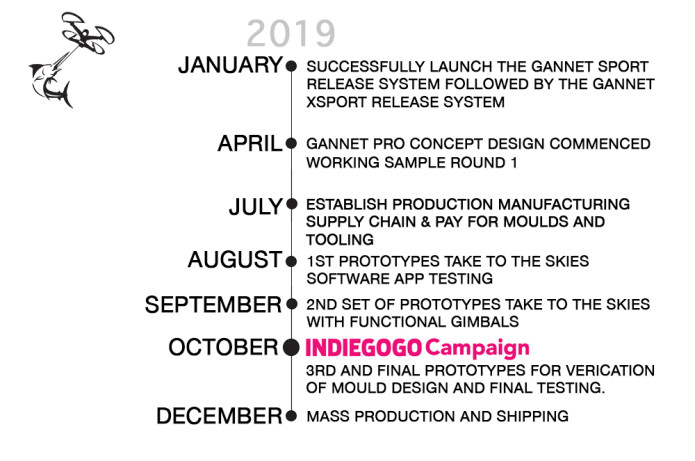 Patent Applications
We have spent years and thousands of dollars developing our products. 
In order to protect our designs and concepts we have filed for the following full & or design patents:
Patent Pending:
A2019/00106
A2019/00107
A2019/00219
A2018/01876
A2018/01875
A2018/01877
A2018/01878
For absolute peace of mind
We guarantee all of our products and our reviews stand testament to this. All units will be hand-assembled and pressure tested in order to pass our rigorous quality control measures.
Shipping, Customs & Duties
International distribution is something we have learned to overcome with great shipping partners. 
International freight does come with its own set of challenges. As a business who has acquired all of the necessary permissions and licensing we abide by all laws and legislation.  With this in mind, we cannot mark any item as a 'gift' or as other items. It is illegal to do so.
Please note import duties and taxes are NOT INCLUDED. These charges vary by country and are not in our control.
We ship our drones all over the world and it is impossible for us to build the various customs charges into our website.
You can use this tool to estimate additional costs.
http://www.importcalculator.com
Remember, we are the creators of Gannet Pro Drones and not international customs, we make no money off local taxes and duties. 
You can use this tool as estimates when determining additional costs in receiving our products.