South African bank ABSA has hired Intel Shooting Stars to fly over Johannesburg later today. It is to reveal their new logo.
I have a great deal of respect for the Ascending Technologies crew responsible for the design and production of these shows. Clever people making it work and Intel bought them out.
How Intel obtained permission to fly is causing waves.
Permissions to fly commercially in South Africa normally take months, each airframe that you fly requires a permission that can take anything up to two years to obtain.
It is all very fishy.
This afternoon South African publication Business Insider also picked up on the inconsistency in this article.
Interestingly they mention they have seen the permission letter, so has sUAS News, here it is.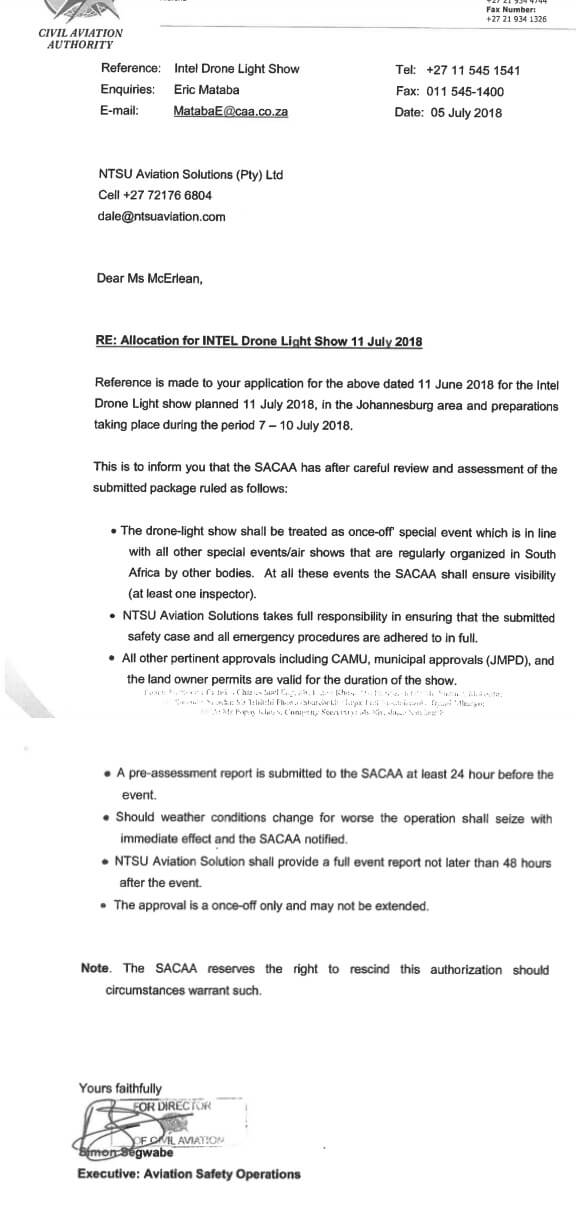 There is also a tweet, a tweet from the man in charge of one of the parts of the licencing jigsaw here. The chairman of the Air Service Licencing Council. Getting permission from them to fly is one of the hurdles.
Business Day perhaps did not pick up a second more important tweet.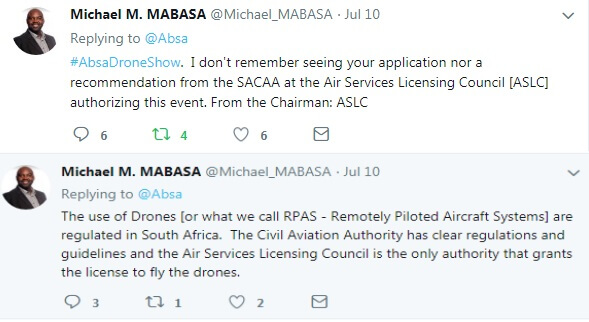 Speaking this evening to me this evening Sean Reitz of CUAASA, the body that represents the commercial drone industry in South Africa said.
"We represent commercial drone operators and there is no doubt that the Intel job is a commercial job. The CAA has approved it on the basis of an airshow and in our opinion, the key difference between an airshow and what's happening now is that somebody is actually getting paid for it and so they really should have followed the right channels and it should have been conducted by a registered ROC holder in South Africa.
If the issue is around timing the CAA could easily have expedited the process through a registered operator. Our feeling is although the Intel light show is going to be an amazing demonstration of technology and it's fantastic to have it on South Africa shores we believe that this is really not done properly and that the CAA really should have applied its own rules and helped the industry grow through the expediting of the process rather than bypassing the regulations."
Alan Ball of Flying Robot said this to me.
"The Intel technology is amazing and what they are doing with swarming and the shows they are putting on is unbelievable.
It seems a bit sour in the way that it's gone about in that they can just arrive, they get a show put on and people that are ex CAA employees can push things through, and make things happen a whole lot quicker for themselves, to benefit themselves than companies that have gone through all the heartaches and pain of trying to stay true to the law and the rules.
It seems like the rules were bent slightly.
Now that the rules have been bent slightly what precedence does that set, how often and who can go and get these specialist permissions to put on those sort of things in public space.
How do you go about applying for a permission like that, is there a procedure, do you still have to be an ex-employee of the CAA to do it?"
I am certain Intel America and the folk's ex of Ascending Technologies had no idea of what they were getting into when they applied for permission to fly here.
They might just have forced the opening of a market mired in red tape.
I have reached out to Intel for comment but as yet they have not responded.