Two days and two chances to look at Drone No Fly Zone maps. This time a Luton based DJI Mavic owner bumps up against a DJI No Fly Zone around London Luton Airport, and the Mavic wants to auto-land in response. A positive thing, the technology worked, well done DJI. The operator was flying to film at a fire at an ASDA grocery store.
My question about the no-fly zone's built into the software, though, is who decided how close the drone could fly to the UK's fifth busiest airport? In 2015 twelve million passengers used London Luton Airport. In American terms, slightly more traffic than Ronald Reagan and Washington-Baltimore.
The big white building in the top right corner of this video still, is a hanger!
https://youtu.be/kj4AH251ZrM
Looking at the UK official app, Altitude Angel, the airfield ATZ and control zone around the airfield are clearly marked.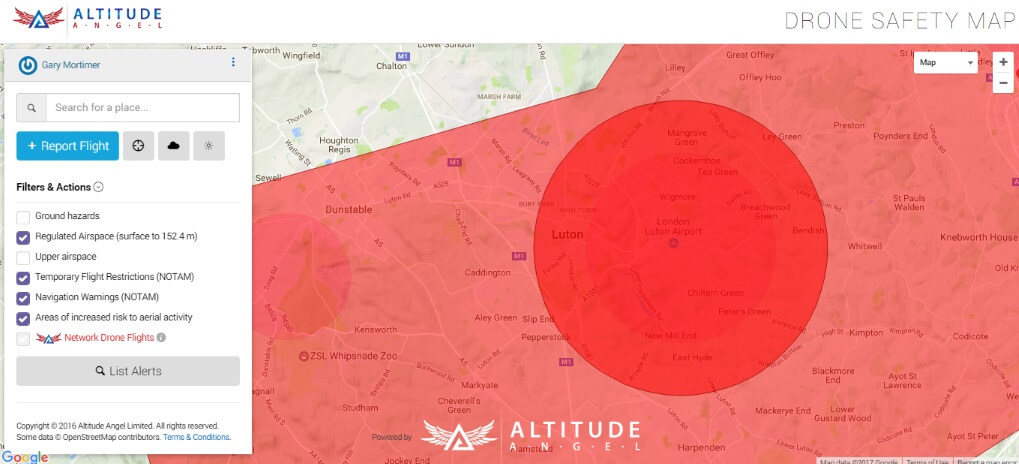 Altitude Angels information window says the following:
LONDON LUTON is controlled airspace. It is enforced from the Surface up to an altitude of 609.6 m AGL. Drone operations within this region are at the discretion of the relevant air traffic controller, tower or authority; if any portion of your planned flight would take place in this area between the altitudes stated, it may be prohibited. Check with the relevant controlling authority before you fly and obtain any relevant permissions.
DJI's No Fly Map is, once again, sparse, and it would seem the No Fly Zone is much smaller.
The Mavic flew within 500m of the airfield boundary and within about 1.5 km of the main runway.
It is great that the technology worked and prevented the Mavic from flying any closer. But who decided on a radius that does not seem to concur with what other aviators have to adhere to?
The base maps and aviation data that manufacturers use is going to have to be audited.
I would prefer that the aviation authority in the country in which a flight takes place has the final word.
If third parties supply data, it should be checked before being promulgated.
At the end of the day, though, it is the responsibility of the operator to know the airspace and rules in which he or she is flying.
A straightforward way of doing that is by buying an up to date aviation chart.