Phase 1 of the 2017 Student UAS Competition is complete. A judging panel, comprised of
Canadian subject matter experts has completed its independent review of the technical papers submitted by all 16 teams. This year's wildlife monitoring scenario will task the teams to census and locate nests of three different types of geese in the remote Canadian wilderness.
To raise the bar, the UAS will be required to extract eggs from the nests as required to test for pesticides in the environment.
Overall, the judges were impressed by the quality of the reports, the inclusion of new technologies into the systems and the way the solutions were presented. Unmanned Systems Canada is, therefore, pleased to announce the top three design papers as follows:
UAS Design Paper Competition
1st place: University of Toronto – Aerial Robotics Division
2nd place: University of Toronto – UAV Division
3rd place: Université de Sherbrooke – VAMUdeS
Honourable Mention: Ryerson University – RUAV, Carleton University – Blackbird
Phase 2, the flying portion of the competition, will take place in Alma QC, April 28th – 30th
2017. Prizes for both phases will be presented at the competition awards banquet on the
closing evening. Special thanks to Centre d'Excellence sur les Drones – CED Alma as our host, and all our sponsors to date. Sponsorship participation is critical to the success of this world-class competition. Sponsors are invited to contact us today at
[email protected]
to become involved, showcase your company and meet future employees. Join us to support and celebrate the best and brightest of the Canadian UAS sector.
Best of luck during Phase 2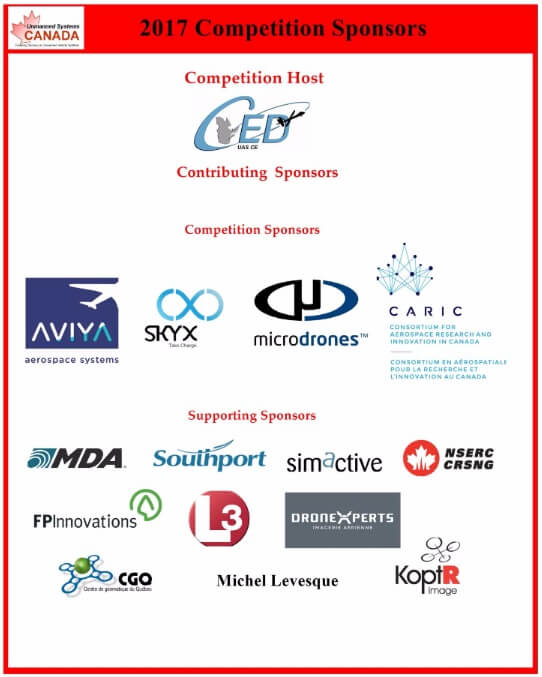 2017 UAS Competition Teams
Carleton University – Blackbird
Concordia University – UAV
École de technologie supérieure – Dronolab
École Polytechnique – Smartbird
McGill – Aero McGill Drones
Ryerson University – RUAV
Simon Fraser University – Team Guardian
Sherbrooke – VAMUdeS
University of British Columbia – UAS
University of Calgary – Schulich UAV
University of New Brunswick – Cobra
University of Toronto – AeRo
University of Toronto – UAV
University of Victoria – AERO
University of Waterloo – WARG
University of Windsor – Dronemanic Uwin