Imitation is the greatest form of flattery. 3D printing enthusiast Musa Wilmar has a free DJI Mavic frame clone and build at Indestructibles. It is not entirely faithful but should impress friends and family!
I wondered what the cost might look like so took to the back of a digital beer mat and did the sums.
Not sure what flight controller he is using, but it would suit a small Ardupilot compatible device. A HobbyKing Micro HKPilot Mega would do, there is a $145 kit that contains everything you need to keep it upright and speak to a ground control station and fly autonomous missions. Flight controller, GPS and telemetry radios. I'm afraid all the fancy detect sense and avoid is going to be off limits in this DIY Mavic.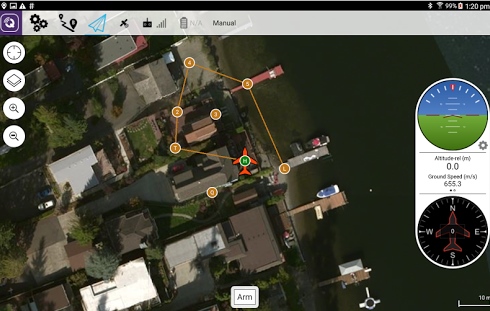 Ground control station wise, there are several free ones to choose.
AndroPilot (I use this), Tower and QGroundcontrol are popular choices. None of them will give you the video with flight information overlaid like the DJI Go app. They will let you plan autonomous flights such as mapping missions, but we won't really be flying a suitable sensor.
The tricky bit to copy, HD video back in this case to a separate device. FPV goggles or a screen would be the way to go.
There are expensive small HD video links, but do you need them in a homegrown 3D printed drone? For now, let us just go with a Connex Prosight for $399. That even includes a camera. Now this is an expensive choice, keeping cost's down a transmitter camera combination will work for close in flights $42.
Motors, going to need 4 of those with 4-speed controllers, this set should do $85.80.
In all of this, I'm going to assume as you are a sUAS News reader that you already have an RC Model transmitter, receiver, batteries and charger.
Autopilot, GPS and telemetry $145
Camera and video transmitter $42
Motors and speed controllers. $85.80
Plastic to make the frame? Now this I am pulling out of the air, would $40 sound about right??
This way comes to $312.8, put in an HD video link instead $669.8. A little bit close to the cost of a real DJI Mavic or Phantom 3 Pro for me. Especially if you don't own RC basics.
But if you have the electronics and motors lying around from other builds it would make for a fun project to build and take to the field.
Well done Musa, a really tidy job.