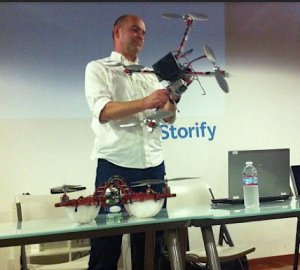 3DR, an Autodesk portfolio company, makes advanced commercial drone technology for data analysis, mapping and 3D modelling in the construction, mining and surveying industries. 3DR's flagship enterprise product is Site Scan, a complete camera-to-the-cloud drone system. For more information, please visit 3DR.com.
3DR makes advanced drone technology easily accessible to the construction, mining and surveying industries for use in data analysis, mapping, 3D modeling and more. 3DR's flagship enterprise product Site Scan is a complete camera to cloud system that makes it safer and easier than ever for enterprise and commercial users to collect and process aerial data, perform inspections and improve business operations. For more information on 3DR, please visit 3DR.com.
The Role:
We are looking for an accomplished, quota carrying sales professional to share their skills to drive our technology and delight our customers. If you have a passion for SaaS sales and an interest in how it can impact businesses AND gain technology sales experience, we want to talk with you. If you're someone who loves to deep dive into a product, while creatively telling a compelling business story to consistently help demonstrate our value.
This opportunity provides unique opportunities to grow personally and professionally.
Responsibilities:
Easily communicate the business impact of exceptional software to both technical and business customers.
Are excited about developing sales plans to strategically grow and expand the accounts within an assigned geography.
Have prospected and generated relationships with new customers.
Have managed the success, adoption and expansion of existing customers.
Have a passion for customer adoption and satisfaction.
Desired Skills/Experience:
2+ years in SaaS or related direct application sales.
Excel in both personal ambition AND collaborative teamwork.
Have excellent communication (interpersonal and presentation) and closing skills, and have successfully applied these in inside sales.
Ability to work in a fast paced, team environment.
Inside sales experience with limited travel requirements (<15%)
Bonus Points for:
Technical background, with basic understanding of infrastructures and SaaS industry in general.
SFDC experience and able to manage a variety of software business tools, including PowerPoint, WebEx, etc.
Apply here
https://boards.greenhouse.io/3drobotics/jobs/486395?gh_src=uetph11#.WGNXWlN97iw