Inventor Ryan Michael Goldstein, has had a patent published June 23rd 2016. Nothing unusual in that. But for the fact that he works for GoPro.
Of the choices there, I rather like the sphere version. Its widely believed the autopilot on board is a PX4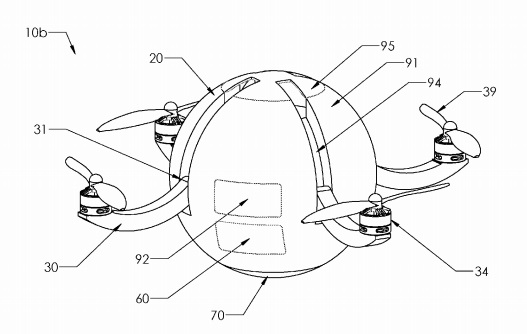 variant. Ryan tells us he is working on Karma in his LinkedIn profile. He also mentions the design in the patent on his personal website
The box design is called Quadbox and this is what is said about it.
Quadbox is a user-controlled drone for action cameras like GoPro that redefines portability and simplicity without costing more than your camera itself.  Quadbox resembles an ordinary pencil box in shape and  size, with sleek rounded corners and a flush outer surface, but open up the latches and pull out the arms and Quadbox transforms into a drone capable of carrying a GoPro camera!.