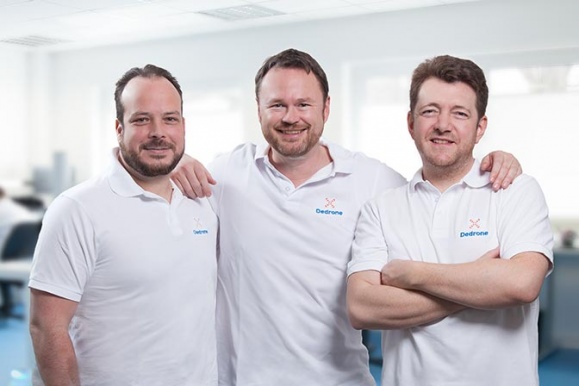 Dedrone, developer of a market-leading civilian drone detection system, today announced that it has raised $10 million in Series A funding. The round was led by U.S.-investor Menlo Ventures, one of the world's premier venture capital firms investing in consumer and enterprise technologies. Dedrone will use the fresh capital to accelerate the advancement and sophistication of its drone detection technology and to expand its sales and marketing teams.
The consumer drone boom has ushered in increased concerns about aerial threats and attacks, opening up a massive new market opportunity.  According to research firm Markets & Markets, the anti-drone market is growing at a CAGR of 24% and will be worth $1.14 billion by the year 2022.
"Any institution with an elevated need for security must now protect its airspace against intrusion from drones, and Dedrone passes that control back to our customers," said Dedrone CEO and Co-Founder Joerg Lamprecht.  "This funding allows us to strengthen our leadership in this emerging market. With Menlo, we have a partner who can support us not only financially, but also with deep domain expertise in technology and security," he added.
Dedrone was one of the first companies to enter this market and in just 15 months has seen impressive growth. DroneTracker, an automated, software-based drone detection platform, is distributed by more than 100 partners in 50 countries and now has 40 employees. Dedrone has customers in multiple sectors of critical infrastructure, including data centers, prisons, oil- and gas institutions and stadiums such as the Citi Field, home of the New York Mets.
DroneTracker attaches to exterior walls of buildings, rooftops, or special masts, using a combination of audio, video, Wi-Fi and RF sensors to identify illegal drones in the vicinity.  "The easy configuration and integration with third-party alarm systems allows our customers to identify and remediate threats quickly and efficiently. Depending on requirements, various countermeasures, such as jammers, can be integrated into the DroneTracker and be triggered automatically," explains Lamprecht.
Venky Ganesan, managing director at Menlo Ventures and early investor in Palo Alto Networks, will join Dedrone's board of directors. "Drones are a disruptive phenomenon that has quickly emerged in all facets of consumer life from deliveries to photography. However like all new technologies, they also pose significant risks to society ranging from aviation to terrorism," Ganesan said.  "We need to safely enable drones and Dedrone is the answer.  Dedrone is building a true next-generation security platform for physical security. We are thrilled to be partner with Joerg Lamprecht and his capable management team on this journey."