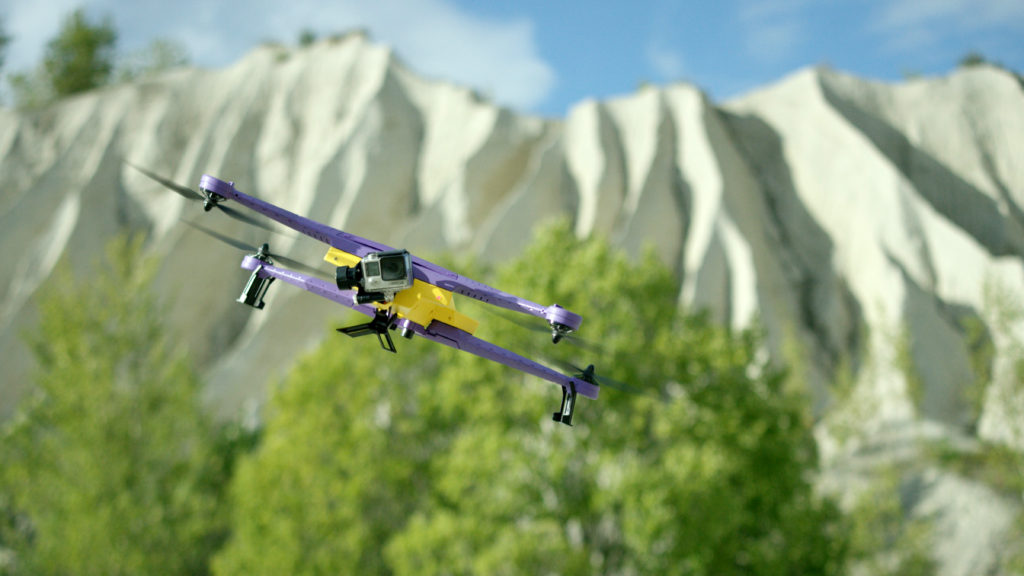 It was late summer 2015 when Ilya Nevdah faced a big problem. The Chief Technology Officer at AirDog should have been flying high — but suddenly, his company's drones weren't.
AirDog had won raves for prototypes of its drones that are built for action sports athletes capturing themselves during their rides/session/sport, and its Kickstarter funding campaign raised $1 million more than its $300,000 target. Pre-orders were rolling in from big-box chains and online retailers that wanted the foldable purple-and-yellow drones. At its factories in Riga, Latvia, AirDog ramped up production just as disturbing news rolled in from its beta testers.
"We received a couple of reports of drones just falling down out of the air," said Nevdah.
Commercial production of consumer electronics — especially something that flies — isn't easy. And trying to track down the problem's source was complicated by the sheer number of units coming off the company's production line.
"We started mass-producing hundreds and hundreds of units and testing every single one at the factory. A significant number of units were sent to our beta testers and a couple of them reported mid-air motor shutdowns," Nevdah said. "We started digging deep into this problem to find any production flaws, because we hadn't had previous cases of such misbehavior."
AirDog tracked the problem back to faulty electronic speed controllers (ESCs), which vary the rotational speed and direction of a drone's motor. Some of them simply stopped operating in mid-air, with catastrophic results for the drones. The ESC manufacturer couldn't pinpoint the problem — and worse, refused to fix it.
Nevdah was stuck with 4,000 worthless ESCs and almost 1,000 Kickstarter orders he couldn't fill. He reached out to other ESC manufacturers, all of whom suggested off-the-shelf solutions that wouldn't work with AirDog's technology.
Out of options, he remembered a contact he met at a trade show from DJI, based in Shenzhen, China. Even if DJI had a compatible product, he didn't know whether the world's leading maker of camera drones would have the time or the interest to work with his startup focused on action sports
To his surprise, not only was DJI willing to provide parts, it offered its expertise to analyze the underlying problems and get AirDog's drones flying. Nevdah discovered that DJI and its 1,500 research and development staffers create some of the most reliable parts and components in the unmanned aerial vehicle industry,
"We immediately understood that DJI is the way to go as soon as we started talking to them," Nevdah said. "DJI engineers analyzed all our technical requirements and quickly designed custom speed controllers we wanted. The quality of the new controllers in terms of hardware and embedded software was far superior than anything we could get from anyone else. The commitment of people at DJI working on the project and short development cycle really amazed us."
A DJI engineer who worked on the project said he and his colleagues were intrigued by Nevdah's engineering challenge. Engineers at DJI did not treat AirDog as a potential rival because of its action sports focus, they saw its product as an opportunity to further expand their best-in-class technology.
"An ESC is similar to a tire of a car. Anyone can buy our off-the-shelf ESCs," said the engineer, who asked not to be named. "Time was limited, so we had to deliver reliable things to them and integrate our mature ESC technology into their system. We were up late at night. This case was very important for us."
DJI engineers began analyzing the problem as soon as they got their hands on sample AirDog motors. They made software tweaks to ensure reliable connections between ESCs and motors, then reworked the ESC power electronics to work efficiently and reliably with AirDog's powerful motors.
"The signal they had before from the previous ESC was not smooth. That led to ESC and motor desynchronization in some cases. That's why their drones crashed," the DJI engineer said. "We only helped with a small part, but it turned out to be an important part."
The collaboration saved AirDog, which is now delivering drones to its Kickstarter supporters and ramping up to fulfill big-box and online orders. DJI engineers suggested other tweaks to AirDog, and the two teams are still collaborating in ways that benefit both companies.
"The drone market is huge and growing. Frankly speaking, AirDog is built for and bought by those in action sports who want to capture themselves in action. We see more competition coming from action camcorders than from other drones," Nevdah said. "We are very happy with the outcome of this cooperation. And we are seeing how both companies and, of course, our customers can benefit."