Its the spreading wings upgrade, receiving lots of social media attention today. DJI have done an excellent job of stealing the thunder from other NAB vendors. The bit of chatter that has caught my attention is the expense of filling it with multiple batteries. In the order of $900 a flight. Of course they are rechargeable but if you are on a job needing more than one flight you will have a lot of money invested in lithium.
I actually thought the list price of the bare unit quite reasonable at $4600. The M600 is a lot of drone.
The weight of it may be a problem in some countries in the world with commercial regulations.
On the whole though a very grown up looking system. I have a feeling DJI just moved a whole heap further ahead of the chasing pack.
A short video interlude….
The modular design makes the M600 easy to set up and ready to use in just minutes. Its dust proof propulsion systems simplify maintenance while actively cooled motors make for reliable operation during extended periods of time. All Zenmuse cameras and gimbals are natively compatible, and a maximum payload of 6 kg allows it to fly the Ronin-MX gimbal and a range of cameras from Micro Four Thirds systems to the RED Epic.
SMART FLIGHT SAFETY
The M600 uses sine-wave driven, intelligent ESCs to ensure it performs accurately, safely and efficiently while A3's self-adaptive flight systems adjust flight parameters automatically based on different payloads. The A3 can be upgraded with two additional GNSS and IMU units to A3 Pro or with D-RTK GNSS for enhanced accuracy.*
*A3 Pro and D-RTK GNSS are sold separately.
EXTENDED FLIGHT TIME AND TRANSMISSION RANGE
The M600 features an extended flight time and a 5 km* long-range, ultra-low latency HD image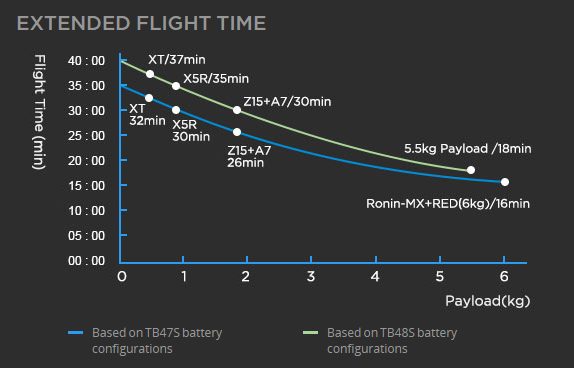 transmission for accurate image composition and capture. The M600 uses 6 small DJI Intelligent Batteries, allowing it to easily be shipped to wherever it is needed. A customized battery management system and power distribution board allows all six batteries to be turned on with one button press, and keeps the system in flight in the event of a failure of a single battery, and allows users to check the battery status in real-time during flight.