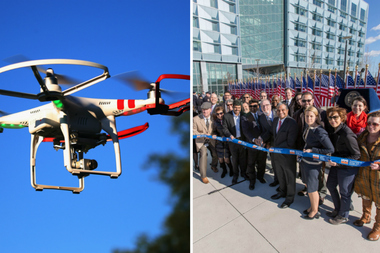 LONG ISLAND CITY — A Department of Design and Construction deputy commissioner had her agency buy a drone last year for high school interns to operate, but it can't be used because her plan didn't fly with City Hall and the feds, DNAinfo New York has learned.
The deputy commissioner, Lillian Llambelis, ordered the purchase of the drone — which cost $4,000 — without speaking to the agency's counsel about the legality of operating the remote-controlled aircraft within city limits, DDC sources said.
When the drone arrived, DDC consulted with City Hall and was told the aircraft had to stay grounded because of current Federal Aviation Administration restrictions, whichrequire government agencies to get an OK from the FAA to use drones, according to the sources. It now sits in a box on the fifth floor of DDC's Long Island City headquarters.
The drone was among several frivolous purchases totaling tens of thousands of dollars in taxpayer money that have been made under Commissioner Feniosky Pena-Mora, sources said.
They include a $50,000 3-D printer that sits largely unused and $1,000 worth of custom-designed ceremonial ribbon rolls that have the agency's name and colors, blue and orange, according to sources.
The sources said Pena-Mora allows his hires to make the purchases, but added he's also been leading the charge in the spending spree — largely to boost his image and ego.
"It's all about self-gratification and puffing himself up," one DDC insider said.
The commissioner wanted the ribbon after feeling upstaged by city Parks Commissioner Mitchell Silver's regalia at unveilings of new city parks facilities, according to DDC sources.
Under Pena-Mora, DDC staff have been forced to be cheerleaders for the agency. At ribbon-cutting ceremonies, the commissioner makes employees chant, "We bleed orange and blue," DDC sources said.
Lots more to read here https://www.dnainfo.com/new-york/20160203/long-island-city/unusable-drone-fancy-ribbon-among-city-agencys-frivolous-purchases