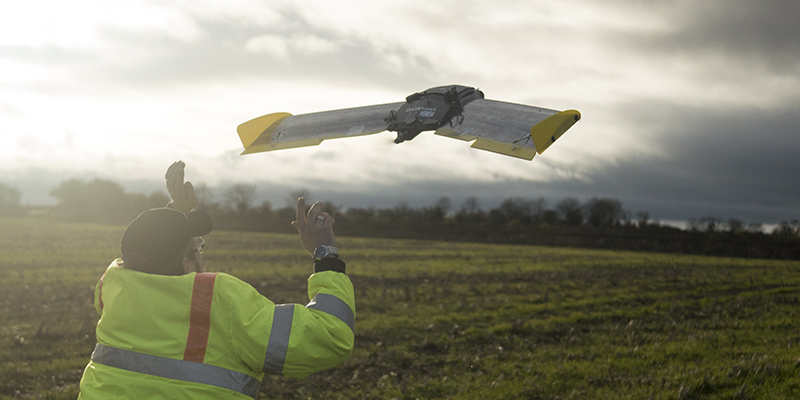 QuestUAV Ltd are proud to announce their new industrial grade compact mapper will be available with the Parrot Sequoia combined multi-band and RGB sensor. Announced February 9th at the World Ag Expo and launching next month, the new sensor covers four bands at 1.2 megapixels plus a 16 megapixel RGB sensor for the ultimate in multispectral accuracy. QuestUAV are one of the initial integrators of the device for Micasense in fixed wing drones, having already applied the RedEdge technology to their UAV range.
Single Flight Performance
Incorporated into the DATAhawk compact mapper, the Sequoia captures data near-infrared, red-edge, red and green at 1.2 MP alongside full RGB imagery at 16 MP. Analytical data is well covered, whilst also allowing the drone's operator to fly single missions of up to an hour to collect high resolution imagery for both crop health index maps AND orthomosaics. Pix4Dmapper, the included professional photogrammetry software, makes discerning usable information for adjusting water and feed rates straightforward and can help lead the way to improved yields and profitability.
Availability
DATAhawk is in full production and available to order now with a range of sensors, including Sequoia and the QX1 20.1MP imaging unit.
Micasense – http://www.micasense.com
DATAhawk – http://www.questuav.com/store/uav-packages/datahawk/
About QuestUAV
QuestUAV is a manufacturer of sub-7Kg and sub-2Kg, fixed-wing Unmanned Aircraft, that are designed to carry sensors such as high resolution cameras, infra-red and multispectral sensors, thermal cameras and gas analysers. We also help provide the science to analyse the results that come back from a flight.
Location and USP
QuestUAV design and manufacture the airborne technology in Northumberland and Newcastle-upon-Tyne
QuestUAV are the only manufacturer of this class of fixed wing UAV in the UK.
As well as manufacturing we run surveys and can deploy virtually anywhere in the world and run a survey at short notice.
Export
The QuestUAV brand is known throughout the world and on a daily basis we have inquiries from potential clients who wish to fly our products or to become resellers. We are working with UKTI to continually setup new resellers and export markets. We currently have resellers covering Germany/Austria and Switzerland in Europe and also South Korea, Australia and South America.