Its the other private RPA personal registration deadline today, the one for people not the platforms themselves. A good day to look at the other sort. Platforms being registered for commercial work under 333 exemptions.
I am going to put a caveat in… We are discovering that the way in which the data is captured is not consistent across the country. Also re sales and change of use of platforms is beginning to lag. Its going to be very hard to keep a definitive tag on things. So add a personal fudge factor.
You don't need to move the percentage points around to see that DJI are ahead of the pack by a wide margin when it comes to commercial camera drones. They have 1516 platforms registered against the #2 3DRs – 166.
We have seen earlier this week that the number of 333 exemptions being issued is rising at a faster rate than before.
There is a slight decline in the rate of new N numbers. This might be attributed to people just taking a punt and getting a 333 because its free and they can show potential customers that they have one.
I have seen several instances on forums where people declare they are doing exactly this. Getting the 333 but not complying in any other way, i.e. having a licenced pilot at the controls or correctly registered airframe. There are 3275 airframes and 3148, 333 operators.  Of those airframes at least 116 were N numbered in the old system. Can you see where I am going here. Several 333's have more than one airframe so there are a number of 333's without licenced airframes.
Of course this slight decline in N registrations might simply be because it was Christmas!
Folks may also be holding back because of the promise of the Micro UAS rule in which sub 2kg platforms would not need a 333 and N.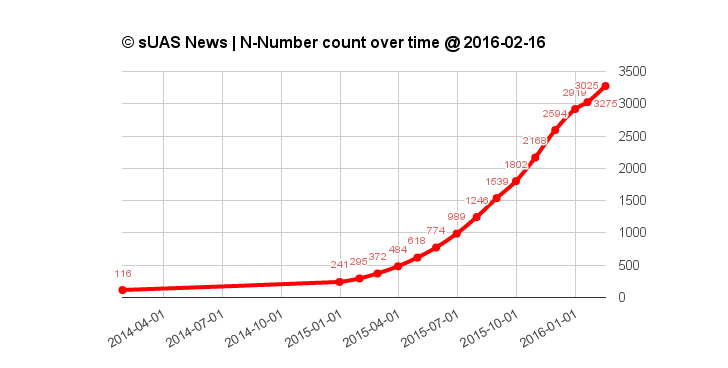 DJI seem to always have about 44-48% of the market and behind them more players are entering and fragmenting whats left. Right now DJI sit on 46.3 % market share by registration. Almost 15% of the rest of the register are single airframe types made by individuals or small companies. What autopilot manufacturer they use we can't easily tell.
New pricing strategy's seem destined to keep DJI on top. The number of Phantom 3 Pro's is catching up with the Inspire which is interesting. Again are people hedging their bets on lighter machines prevailing?
This is how the DJI breakdown looks.
| | |
| --- | --- |
| DJI | 1516 |
| | |
| INSPIRE 1 | 387 |
| PHANTOM 3 PRO | 380 |
| PHANTOM 2 VISION + | 238 |
| PHANTOM 2 | 166 |
| PHANTOM 3 ADVANCED | 84 |
| S900 | 56 |
| S1000+ | 46 |
| S1000 | 44 |
| PHANTOM 2 VISION | 34 |
| PHANTOM 1 | 22 |
| INSPIRE 1 PRO | 20 |
| PHANTOM 3 STANDARD | 14 |
| S800 | 13 |
| F550 | 7 |
| MATRICE 100 | 4 |
| F450 | 1 |
We will be running more in depth analysis quarterly in the sUAS Guide.