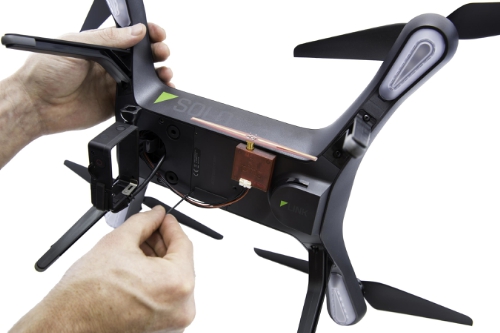 uAvionix Corporation, the leader in unmanned ADS-B technology and Dronecode, the nonprofit organization developing a common, shared open source platform for Unmanned Aerial Vehicles (UAVs), today announced a plan to collaborate on advanced development in ADS-B 'sense and avoid' functionality in ArduPilot-based drones.
The uAvionix Ping is the smallest and lightest ADS-B transponder available for unmanned aircraft. At only 6gr it is able to detect all aircraft threats within a 30 statue mile radius in real time. The MAVlink based communication protocol found throughout the ArduPilot/APM autopilot line provides a plug-n-play integration of the uAvionix Ping transponder. The partnership will allow opportunities and new ways of combining the technical knowledge and inventive spirit of the two leaders in their respective fields.
"Being able to access the Dronecode application ecosystem will provide huge advancements in real-time sense and avoid behavior," said Adam Paugh, uAvionix' Director of Business Development. "This collaboration in open source ArduPilot-based development with standardized protocols, such as MAVLink, will accelerate deployable solutions for agile and reliable operation in the national airspace."
The open source platform has been adopted by many organizations on the forefront of drone technology, including 3DRobotics, Parrot, Qualcomm, Intel, DroneDeploy, Yuneec, Airphrame, and others. With over 750,000 users and nearly 500 active developers it represents the largest community of UAV professionals and enthusiasts in the world today.
The alliance has identified project leads for three technical working groups to ensure development standardization and interoperability.
Andrew "Tridge" Tridgell – lead for ArduPlane
Randy MacKay – lead for ArduCopter
Craig Elder – technical manager for DroneCode
"The PING ADS-B receiver by uAvionix increases my flight safety by giving a sense and avoid capability that would allow me to avoid other full-scale aircraft," said Airphrame's Mechatronics Engineer Tom Pittenger. "That is a real concern that all drone companies should have so this is a must-have feature in the drone industry. It is an easy drop in feature to my ArduPilot based aircraft and 'just works.'"
About Dronecode
Dronecode Foundation is a nonprofit organization working on a common, shared open source platform for Unmanned Aerial Vehicles (UAVs). Dronecode brings together existing and future open source UAV software projects, including the APM UAV software platform originally developed by 3DRobotics. More than 1,200 developers are working on Dronecode's six projects focused on maximizing adoption of the project's cost-effective, reliable and technologically advanced UAV software. A Linux Foundation Collaborative Project, Dronecode is an independently funded software project that harnesses the power of collaborative development to fuel innovation across industries and ecosystems.
https://www.dronecode.org
About uAvionix Corporation
uAvionix develops the world's smallest, lightest and most affordable ADS-B transponder, Ping. uAvionix' Ping network system combines hardware, software, and real time airspace mapping to enable companies to safely and reliably operate drones in the NAS. Based in Palo Alto, uAvionix has gathered a cross-disciplinary team of experts in embedded RF engineering, sUAS operations and compliance, hardware, software, and cloud services.