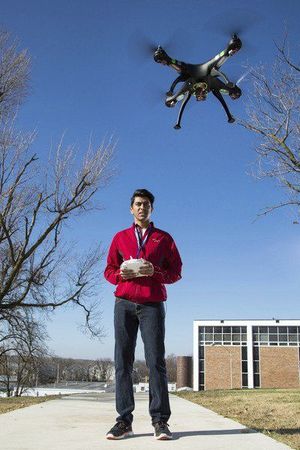 In the past, someone wanting an aerial view of the Tri-State Mining District would have had to rent an airplane and hire a photographer.
Kush Bhakta, a sophomore mechanical engineering major at Missouri Southern State University, has come up with a much more efficient way to monitor the ongoing cleanup at the region's mining sites. He is using an unmanned aerial vehicle, a drone, to capture images from an altitude of 1,000 feet that can be compared with the historical record.
Over the last several months, Bhakta has collected videos and still images from areas in Southwest Missouri, Southeast Kansas and Northeast Oklahoma – the Tri-State district where lead and zinc were heavily mined from the mid-1800s to 1970.
"We reviewed a lot of government, academic and archive literature from the Joplin Museum Complex," Bhakta said. "It gave us some ideas of places we could go. Brad Belk, the museum director, provided us with a lot of old images we could use as comparative pictures. It really helped out."
Bhakta is working with Dr. Albert Yeboah-Forson, an assistant professor of geophysics at Southern.
"We want to know how far these former mining locations have gotten in terms of remediation," Yeboah-Forson said. "Typically, we would do that by collecting water and soil samples, but we have limited resources.
"So then we decided to use a drone to tell us where we should focus our research. The first part of this study is the drone component. We'll then pick a couple of sites to do a chemistry analysis with students next semester."
The aerial findings have been grouped into three areas – incomplete, successful and unsuccessful remediation. Data collected during the study will hopefully prove useful to the communities being looked at, Yeboah-Forson said. It will be used to find problem areas and suggest ways for further cleanup work.
Bhakta became involved with drones as a hobby about two years ago.
http://www.joplinglobe.com/news/local_news/mssu-student-using-drone-in-mining-district-research/article_6602744b-986d-5f3c-a369-c4efe05334a0.html