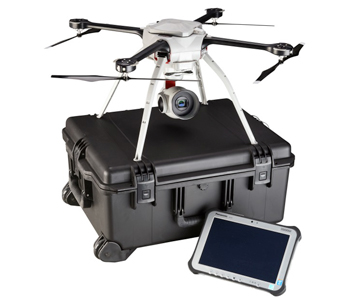 The team at Aeryon Labs is passionate about building solutions that help people do difficult and (often) dangerous tasks – safely and efficiently – and equally passionate about the people who enable us to be successful. We offer careers that allow you to collaborate with some of the most creative minds in the industry, exceed your expectations and be at the forefront of a fast-moving, growing industry.
About the Position
All roles at Aeryon require great teamwork, and a passion for getting things done, the right way. We work smart and hard by solving problems and making sure the solution works for all stakeholders. In this role, you will ensure our projects are delivered with unwavering commitment to quality and market leading innovation, on time and effectively.
As the Senior Technical Project Manager you will:
Provide a single point of contact for projects and take projects from original concept through final implementation
Develop detailed work plans, schedules, project estimates, resource plans, budgets, and status reports while breaking projects into measurable milestones
Lead project meetings and being responsible for project deliverables by coordinating the various teams and resources towards a common goal – Delivered, high quality product
Manage the integration of teams on hardware, software, design and verification as we move through the project
Assess and take action to direct the analysis of and solution to problems
Provide visibility to team impediments/risks and helping eliminate them
Help the team achieve project goals while partnering with the Product Manager on overall business goals
About You
Technical Project Managers at Aeryon have strong leadership, excellent communication, and "hands-on" project management skills, as well as exceling at motivating and leading others through vision, strategic positioning, and leadership characteristics. You want to work for a technology company that is innovative and growing, meaning you are hands on and thinking at the same time "Think, then do".
You see your success through the overall performance of the company and its reputation. You are comfortable working with cross functional teams and supporting your colleagues to help everyone get things done right. You will be able to influence customers, internal teams and leadership, and work with all to support and resolve challenges. You thrive on challenge and learning but most of all, you want to be a part of something and see the results of you and your colleagues work.
What you bring
10+ years of industry engineering experience, with at least 5 years in a management or technical project management position
Proven track record of successful project/program management of mid to large size projects in complex environments, preferably with hardware and software
World class methodology and experience with an organization known for delivering on time with high quality
Experience with project management of several concurrent projects for multiple industry or vertical solutions with committed deadlines
Ability to organize, define a charter, plan and create a team environment that will lead into a team motivated to deliver
Aeryon Labs Inc. is an equal opportunity employer that does not unlawfully discriminate against any employee or applicant on the basis of race, ancestry, place of origin, colour, ethnic origin, citizenship, religion, gender identity, gender expression, creed, sex, sexual orientation, age, record of offences, marital status, family status or disability.
Aeryon is committed to a fair and inclusive work environment. We will endeavor to accommodate the needs of qualified applicants in all parts of the hiring process.
If you require accommodation in completing the application process, or with any portion of the application process or interview please email careers at aeryon.com or call (519) 489-6726