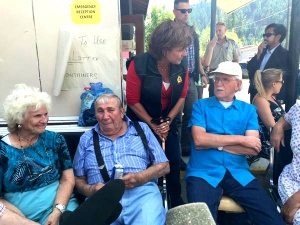 CBC News
Drone experts are fuming about the stray drone that grounded eight helicopters and five skimmers — that were fighting a wildfire in British Columbia's southern Interior — for up to five hours on Sunday.
Whoever flew the unmanned aircraft over the Testalinden Creek fire is "irresponsible and selfish in my mind," said drone operator and instructor Sterling Cripps.
"You have to be trained … Someone flying in a forest fire is far from that."
The Testalinden Creek fire, near Oliver, B.C., has quickly grown to over 1,500 hectares, or more than 10 times the size of Vancouver's Stanley Park.
RCMP officers are still looking for the drone operator.
Drone guidelines in place
Currently, operating a drone that weighs under 35 kilograms requires neither a licence nor a special permit, though operators must follow a list of Transport Canada safety guidelines, which include keeping away from forest fires and anywhere the small aircraft might interfere with first responders.
Cripps explained that drones keep crews grounded because they can cause serious damage to other, larger aircraft.
"You can imagine the consequence of ingesting a drone into an aircraft engine or into the windscreen of an aircraft," said Cripps. "It's not a bird, it's got more solid parts on it."
People have been taking to the skies in increasing numbers now that recreational drones are more affordable than ever.
But that upswing in popularity, a lack of public-awareness campaigns and skimpy enforcement efforts have put the unmanned aircraft on a collision course with their manned counterparts.
A rise in incidents involving recreational drones interfering with planes and helicopters has some calling for Transport Canada to crack down on unlawful recreational drone users.
"Public awareness and enforcement is lacking," said Ernie Zeisman, president of a drone training outfit in the British Columbia Interior. "They need to begin clamping down."
Crews trying to contain Oliver fire
The Testalinden Creek fire has been burning since Thursday evening and has caused the evacuation of about 100 homes in the area. Officials said Monday it is 40 per cent controlled.
The incident on Sunday was significant enough for Premier Christy Clark to speak out about it while visiting evacuees in the area.
"I want to ask anybody who has a drone keep it grounded, because we can't fight fires when you're up there," said Clark.
It's not the first time a drone has halted firefighters' efforts. In August several drones kept crews from containing a wildfire near Kelowna that had 70 properties on evacuation alert.
http://www.cbc.ca/news/canada/british-columbia/drone-operators-blast-irresponsible-and-selfish-flight-that-grounded-firefighters-1.3193540