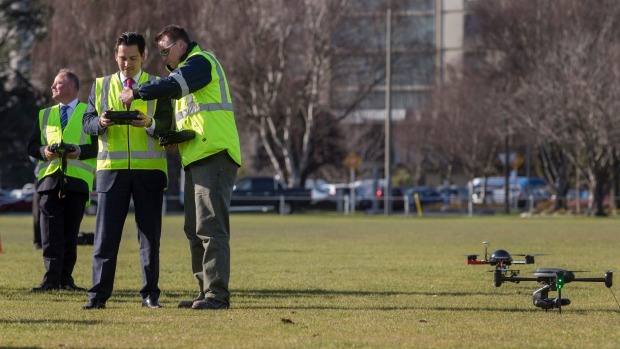 Drone operators must be more open about their surveillance activities under new Civil Aviation Authority (CAA) regulations.
Upgraded rules which come into force on August 1 require drone users to secure permission before hovering over public spaces and private property.
CAA General Manager of general aviation Steve Moore said the new and reinforced rules reflected a significant increase in drone movements nationwide – safety, not privacy concerns was the motivation.
"They are potentially able to fly around in the middle of current aircraft. That does pose a safety risk to the public and the people flying those aircraft," he said.
Moore acknowledged a balance had to be struck between public safety and the continuing development "of one of the most most rapidly developing and dynamic sectors of the aviation industry," when Civil Aviation Rule Part 101 and 102 was unveiled at a University of Canterbury function on Thursday.
Operators had to contact the landowner, an individual – or a local authority if the drone was flying over a public park – and if permission was denied they could apply for an operating certificate under the new Rule Part 102.
They can also use 102 – the CAA's latest interim measure governing drones – to operate outside the existing regulations in a move to offer a greater degree of flexibility.
Rule Part 101 was originally formulated to cover model aircraft and stipulates that a UAV (Unmanned Aerial Vehicle) cannot fly above an altitude of 120-metres, take-off outside daylight hours and not within 4km of an aerodrome.
Under the new regulations a farmer, for example, was more likely to be able to use a drone at night on his property.
Moore admitted the demand for consent from landowners met with resistance but argued it was the most effective method of managing risks.
"The owner of the property is most likely to be able to identify safety risks on their own land."
A CAA spokesman said 102 offered operators a viable review process.
"We'd have to be pretty certain that it's going to safe. If they (the landowner) said 'No' you can't because I've got high voltage lines criss-crossing my property we'd probably say that's a pretty good reason.
"If they just were saying 'I don't like this guy and that's my reason, it's more likely we would say there's no real safety issue there. We might look at the property and help the operator," he said.
Meanwhile, the CAA recorded 53 incidents involving UAVs in the six months to June this year, a significant increase on the one issue reported in 2011.
Moore, who admitted 53 was "probably not the true number", said the CAA's priority was education rather than fines and prosecutions when regulations were breached.
The maximum fine for an individual was $5000; corporate body's risked penalties of up to $35,000.
Meanwhile, Minister of Transport Simon Bridges, who had joint control of a Draganfly X4 at Ilam Field while associate Minister Craig Foss operated a Aeronavic Bot under supervision, welcomed the new rules.
"We know New Zealanders are tech savvy, we've got a history of huge innovation in transport and we want to unleash that further not stifle it. We've seen UAV's used in a variety of areas already, the possibilities are potentially limitless," he said.
"The rules are about allowing that while also ensuring its safe and responsible."
Unmanned Aerial Vehicle incidents reported to the CAA:
– 2007: 2
– 2008: 1
– 2010: 1
– 2011: 1
– 2012: 3
– 2013: 9
– 2014: 27
– 2015 (to end June) 53
Go to airshare.co.nz to get information for drone operators.
http://www.stuff.co.nz/technology/70493842/drone-operators-must-obtain-flying-permits-under-new-rules