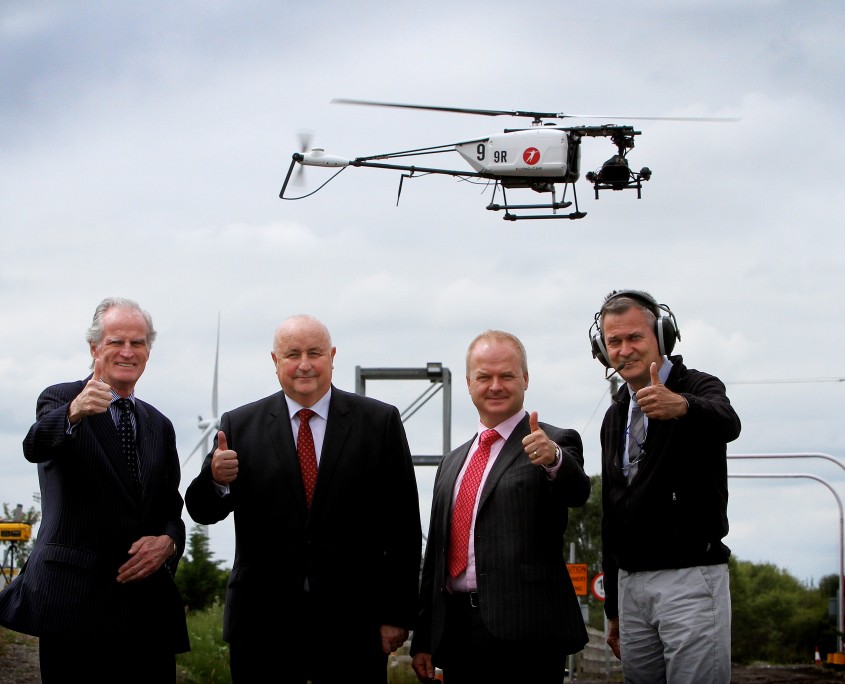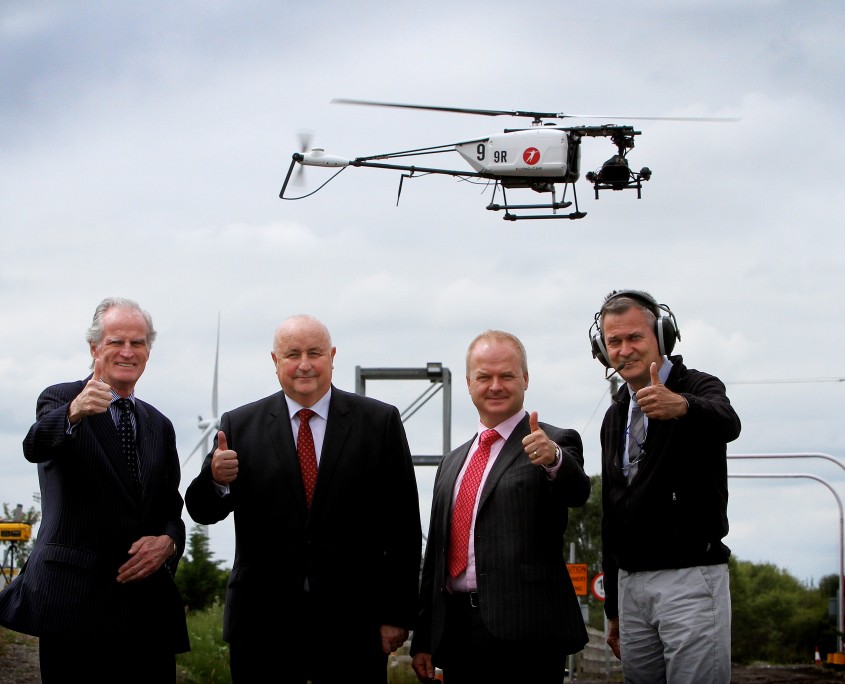 Green Aviation, Ireland's largest commercial drone company today launched its unmanned aerial services at an event at Mount Lucas Wind Farm, Co.Offaly. The company aims to disrupt the current commercial marketplace by providing solutions up to 30% more cost efficient and 90% more energy efficient than current solutions. The drone display was the first by an Irish commercial drone company to operate a drone above 20kg Max Take Off Weight, and the first to operate a drone in the Extended Visual Line of Sight range.
Green Aviation has partnered with global unmanned aerial vehicle manufacturers to provide Irish and International clients with the largest and most efficient range of services in the market. By having a selection of drones ranging from 11kg to 150kg in weight flying cameras weighing anywhere between 3kgs to 35kgs, Green Aviation is able to service a diverse market place in data collection tailored to its specific and varying needs. This platform selection, according to Green Aviation CEO and former Commercial Airline Pilot, Oisin Green, is key.
"Clients come to us with an array of different requirements and the current 'one size fits all' approach is not working for them. Utility companies for example, who currently would use helicopters to monitor the National Grid are switching to our large, industrial Inspection drone as it is silent, compared to the helicopters which are very loud- particularly at low levels which disturb livestock. Wind farm operators on the other hand, need a small, efficient flying camera to inspect infrastructure at great heights. We would have a very different offering for this type of client to fulfill that need."
According to an economic impact report by the Association for Unmanned Vehicle Systems International (AUVSI), precision agriculture will form nearly 50% of the overall drone market in the US this year. Oisin believes this figure is indicative of the Irish market also.
"Drone surveillance and data collection is of huge benefit to the large agriculture sector in Ireland. Farmers can use drones to take aerial imagery of their crops to assess their health. This info can then inform farmers which exact areas need attention, as opposed to operating in the absence of such specific information."
Oisin, who has worked as a Commercial Airline Pilot flying Boeing 737 aircraft, and within the Irish Army retiring in the rank of Captain, decided to set up Green Aviation, after working on a drone procurement project for the Irish Defence Forces and realising the potential for commercial drones in Ireland.
"Drones have wide appeal in the commercial sector. They can be utilised to support sectors such as telecommunications, construction, utilities and of course, the film and entertainment industry. One of our drones was in fact used in the making of Hollywood blockbusters such as Mission Impossible, Skyfall and Harry Potter, and the team from Flying-Cam who have designed and operated this specific drone, were the recipients of two Academy Awards for their Aerial Filming efforts."