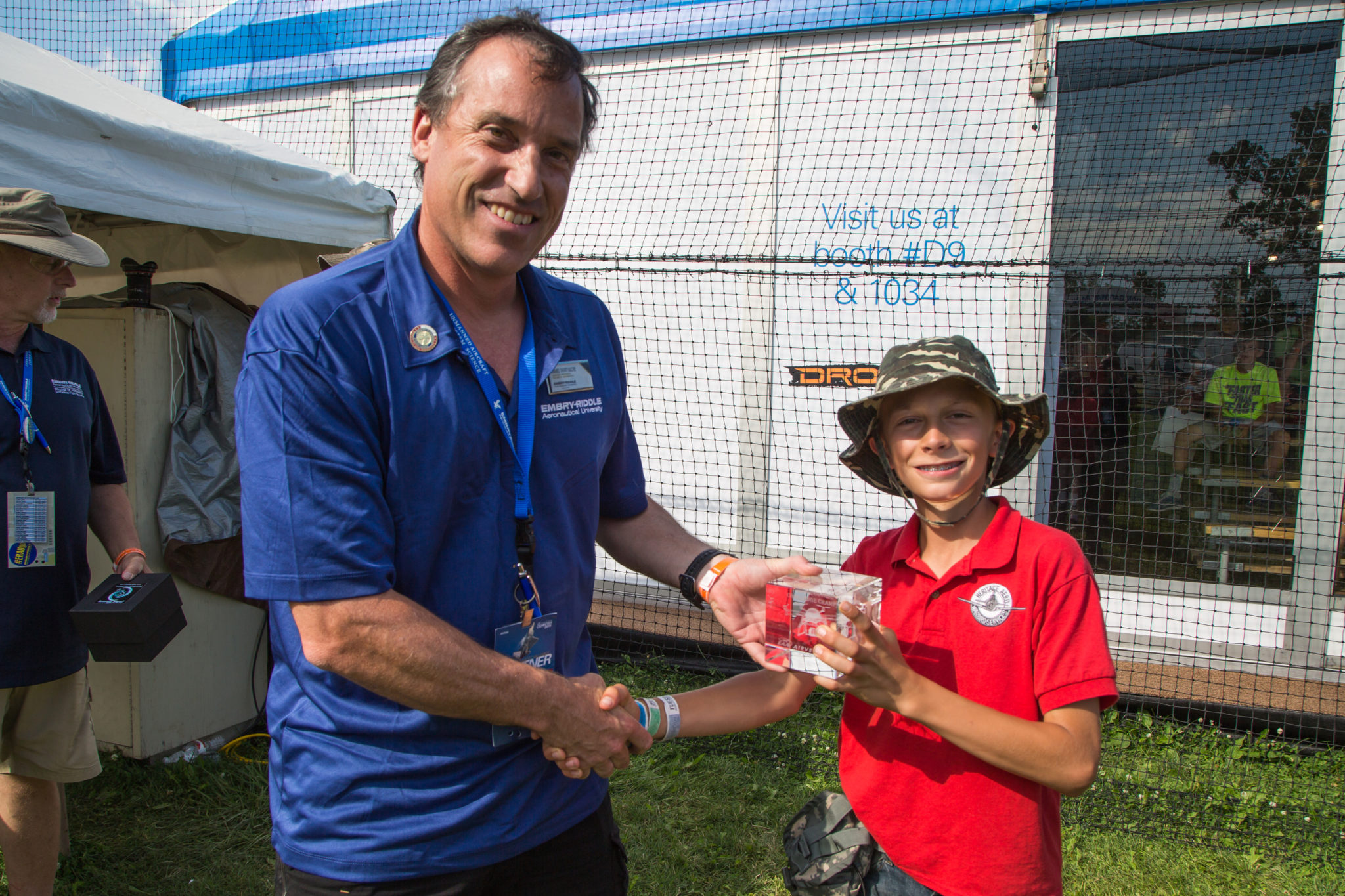 EAA AirVenture Oshkosh 2015 attendees gained hands-on experience at the controls of unmanned flying machines as part of the Small Unmanned Aerospace System (sUAS) Challenge during this year's fly-in at the 63rd annual Experimental Aircraft Association (EAA) convention held July 20-26 in Oshkosh, Wis.
The sUAS Challenge, which featured an obstacle course for the unmanned flying vehicles commonly referred to as drones, was sponsored by EAA and Embry-Riddle Aeronautical University's aviation mobile interactive exhibit, the Embry-Riddle Experience.
"Not only were the challenges educational for the participants, they served as informative demonstrations for the thousands of fans there at Oshkosh of unmanned capabilities and technology," said Embry-Riddle Worldwide Assistant Professor David Thirtyacre, who oversees the unmanned demonstrations and challenges for the Embry-Riddle Experience. "Our students get this hands-on experience every day, so it's really exciting to bring that and what we do best to those who share our passion about aviation and the future of unmanned."
The competition pitted more than 80 competitors ages 12 to 62 against each other daily with qualifying and elimination rounds resulting in four final competitors racing head-to-head each day. In addition to the daily competitions, more than 200 spectators gathered at the drone cage for "The Manufacturers Cage Match," featuring professional pilots from UAS manufacturers and hobby stores. Embry-Riddle Daytona Beach, Fla., campus student Kendall Clutts finished first.
"As with traditional manned flight training, Embry-Riddle is positioning itself to provide the highest quality of sUAS flight training available once the FAA certification criteria are established. Our sUAS challenges are another example of our commitment to excellence in flight," said Embry-Riddle Worldwide Dean of Aeronautics Dr. Ken Witcher. "We are committed to supporting the growing UAS industry through educational programs related to the design, operation, and application of this remarkable technology."
The Dromida Ominus and Blade 180QX HD systems used in the competitions were supplied by Hobbico and Horizon Hobby LCC. Etched Memories provided the trophies.
Winners:
Monday, July 20 – Nicholas Crofoot of St. Johns, Mich.
Tuesday, July 21 – Bjorn Vasenden of Embry-Riddle Aeronautical University, Prescott, Ariz., campus
Wednesday, July 22 – Daniel Wilewski of Poplar Grove, Ill.
Thursday, July 23 – Kyle Rickert of Antioch, Ill.
Friday, July 24 – Robin Mox of St Johns, Mich.
Saturday, July 25 – Kendall Clutts of Embry-Riddle Aeronautical University, Daytona Beach, Fla., campus (NOTE: Clutts broke the course record with a 19.44-second qualifying run and swept the final round with three back-to-back victories).
About the Embry-Riddle Experience
The 53-foot trailer known as the Embry-Riddle Experience includes unmanned aircraft demonstrations, aviation and unmanned simulators, a virtual crash lab and degree information that demonstrates how Embry-Riddle students, staff and faculty are leading the way into the future of aerospace and aviation. Simulators in the Embry-Riddle Experience provide a variety of fixed-wing, rotary and multirotor aircraft models in realistic operational settings such as airfield and steep soaring slope locales in the bayou, desert and mountains. Another unique feature of the Embry-Riddle Experience is the Virtual Crash Lab (VLAB), which was developed in conjunction with the university's Aircraft Accident Investigation curriculum and is designed to allow participants to interactively inspect a crashed commercial aircraft. Operators can move and survey the crash site, inspect the fuselage and debris and take photos with the use of Oculus Goggles. The Embry-Riddle Experience travels throughout the country to aviation and engineering shows as well as schools and special events. For more information on the Embry-Riddle Experience, go toerau.edu/follow.
About Embry-Riddle Aeronautical University
Embry-Riddle Aeronautical University, the world's largest, fully accredited university specializing in aviation and aerospace, is a nonprofit, independent institution offering more than 75 baccalaureate, master's and Ph.D. degree programs in its colleges of Arts & Sciences, Aviation, Business, Engineering and Security & Intelligence. Embry-Riddle educates students at residential campuses in Daytona Beach, Fla., and Prescott, Ariz., through the Worldwide Campus with more than 125 locations in the United States, Europe, Asia and the Middle East, and through online programs. The university is a major research center, seeking solutions to real-world problems in partnership with the aerospace industry, other universities and government agencies. For more information, visit www.embryriddle.edu, follow us on Twitter (@EmbryRiddle) and facebook.com/EmbryRiddleUniversity, and find expert videos at YouTube.com/EmbryRiddleUniv.