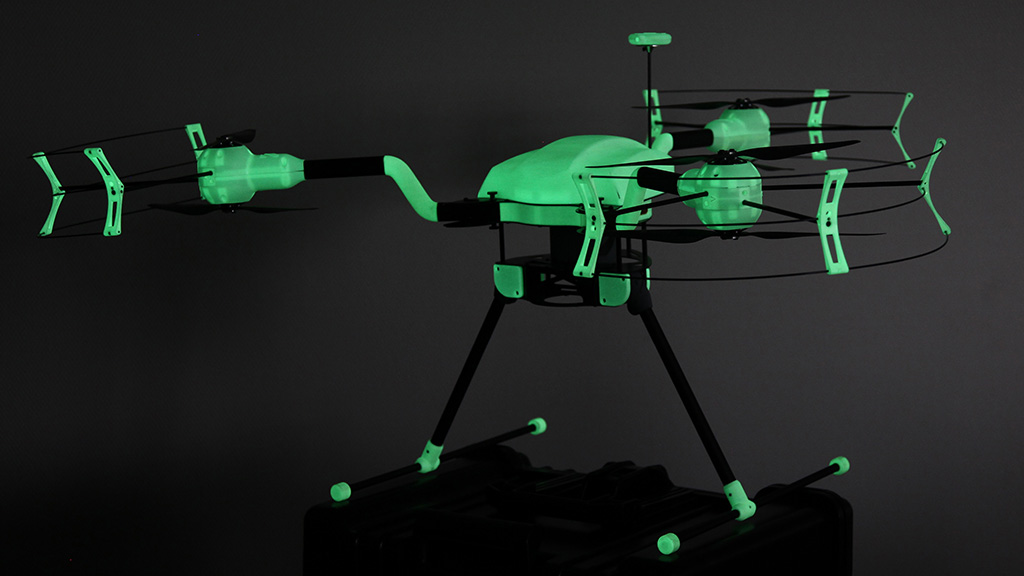 While access to technical inspections using drones is gradually broadening in industry sectors in, among others, the inspection of artworks, infrastructure and networks, increasing the specialization of air carriers in order to adapt them to the constraints and evolution of their environment seems necessary.
It is through such observations that DRONAVIA, a Nancy startup specialized in drone manufacturing, imagined the first drone capable of reproducing light energy without electricity consumption for the realization of aerial mission in very dark areas. The product code name is ECLIPSE 6NV (NV for Night Vision).
For Ludovic Pelletey, President of the young company, "It is through discussions with both private and public donors that we gradually saw this problem of inspection in dark areas, and realized the necessity of being able to view the position and orientation of the drone.
In this way, the idea came to me in a kind of flash (no bad pun intended!) of using a highly luminescent material to make our drone visible when it is pitch black in the area to be inspected."
Ironically, it is with the support of one of its main prototyping suppliers, located just a few hundred meters away from its offices, that Dronavia found this miracle material. It is a patented material that combines the photoluminescent components with the desired mechanical properties of strength and lightness.
Grain silos, closed buildings, tunnels, large diameter pipes, are all so many environments where traditional drones fail in their operations: visual loss of the drone, collision with a wall, crash. "If we had to equip a drone with LEDs to illuminate it, the power consumption would be so large that the drone's autonomy would be reduced unacceptably, which is a real concern for these types of aircraft," explained Ludovic. "If we all remember these little stars that we fixed on our bedroom ceilings when we were young, we are here using a material with industrial properties that recharges very quickly in sunlight (UV) and that has a strong and durable light restitution ability," concluded the entrepreneur, whose ambition is to commercialize the ECLIPSE 6NV both with major French companies and also internationally.
To have the means of its ambitions, the young company has already staked a spot for itself at the Salon du Bourget (International Paris Air Show), which will take place from June 15th, to 21st in order to showcase one of the first models, fresh out of its workshops.
To complete this technological innovation, the ECLIPSE 6NV features a self-powered
"Thermal Scan" that combines a thermal sensor and an HD video acquisition sensor in order to create thermal images from infrared images.
The drone is additionally equipped with removable propeller shields to protect it in case of contact with walls, with foldable arms to optimize its ergonomics and on-site transport, a full retractable landing gear to allow 360° movement by the embedded sensor, and a host of other innovative features.
About Dronavia: Created in early 2015, Dronavia is a manufacturer of drones and safety accessories aimed at the professional sector. Made up mainly of technical experts that place design, research and development at the center of their inspiration, Dronavia champions the view that drones are personal assistants and tools for business, and not the reverse. To do this, Dronavia researches and develops innovative solutions to design ever more efficient, durable and reliable unmanned aircraft.